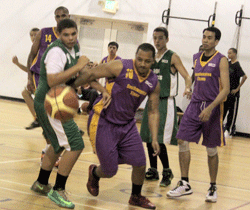 Bermuda Basketball Association Premier Basketball League action inside the Somersfield Academy Gymnasium saw a triple-header.
In the opener produced 100 points as the Somerset Flyers defeat the Pembroke Canetoads 71 – 29. Kareem O'Connor scored a game high 22 points to lead the Somerset Flyers to victory, while Michael Paynter scored 10 points for the Pembroke Canetoads.
The second game saw a total of 85 points in total scored. The Southampton Titans defeat the Paget Bearcats 61-24, Ian Vega scored a game high 16 points leading the Southampton Titans to victory, while Marcus Smith scored 12 points for the Paget Bearcats.
The final game of the night was a see-saw battle that saw a total of 76 points scored as the Hamilton Tsunamis defeated the St. George's International's 39 – 37. Kevin Stephens led the Hamilton Tsunamis to victory with 14 points, while Dwayne Swainson scored 12 points for the St. George's International's.
Read More About