Today [Feb 6] marks the birthday of Bob Marley and in recognition of the legendary reggae singer, Chewstick completed a tribute mural on Court Street, which includes both Bob Marley and the late Bermudian jazz great Lance Hayward.
Mr. Hayward, a world renowned jazz musician, was the first artist to release an album with a fledgling Island Records, which would go on to release Bob Marley and the Wailers' first album and introduce reggae to the world.
"These two artists are a great inspiration, and their connection is not widely known, this is why Chewstick has completed this piece and aims to do more like it throughout the community," a spokesperson said.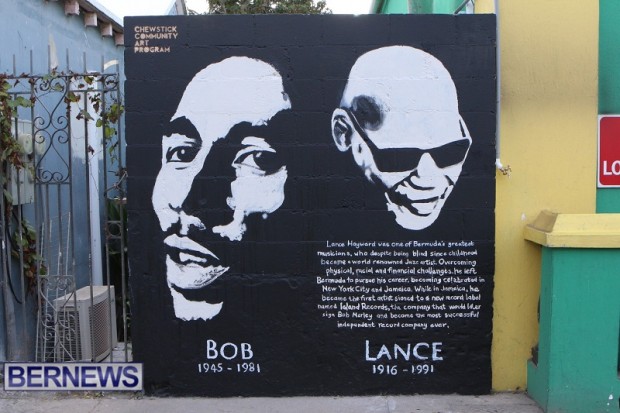 Beneath the painting of the face of Mr. Hayward, the mural reads, "Lance Hayward was one of Bermuda's greatest musicians, who despite being blind since childhood, became a world renowned jazz artist.
"Overcoming physical, racial, and financial challenges, he left Bermuda to pursue his career, becoming celebrated in New York City and Jamaica.
"While in Jamaica, he became the first artist signed to a new record label named Island Records, the company that would later sign Bob Marley and become the most successful independent record company ever."
The official Bob Marley Facebook page describes the singer as "a hero figure, in the classic mythological sense. His departure from this planet came at a point when his vision of One World, One Love – inspired by his belief in Rastafari – was beginning to be heard and felt. The last Bob Marley and the Wailers tour in 1980 attracted the largest audiences at that time for any musical act in Europe.
"Marley's story is that of an archetype, which is why it continues to have such a powerful and ever-growing resonance: it embodies political repression, metaphysical and artistic insights, gangland warfare and various periods of mystical wilderness."
Bob Marley performs "Redemption Song" live In Dortmund, Germany
In the interest of expanding the Community Art Programme, The Chewstick Foundation is inviting members of the community to get involved by attending a meeting at their facility on the corner of Court Street and Elliot Street.
"This program's focus is to bring our history to the streets so that our legends are not forgotten and their stories can remain solidly in the public consciousness," said Chewstick Foundation Executive Director Gavin Djata Smith.
"The Chewstick Foundation is developing the depth of the programme by inviting partnerships with businesses, community organizations, charities, youth groups and artists to imagine and help create pieces that break down barriers and bring people from all walks of life together."
The Marley/Hayward Mural is the beginning of increasing the frequency of installations as well as the first in a series celebrating the global impact of Bermuda's local heroes.
The Chewstick Foundation hopes to create murals across the island and engage with people of all interests and skill levels at the meeting at their facility on Wednesday, February 12 at 5.30pm.
For more information on the Community Art Programme meeting, including ways that you can help and questions on upcoming events and initiatives, please contact the Chewstick Foundation via telephone at 292-2439 or via email info@chewstick.org.
Read More About
Category: All, Entertainment, Music, News