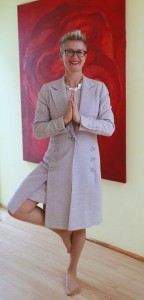 The Argus Group today [Mar 20] announces it has sponsored the Argus Beginners Track at the first Bermuda Yoga Festival being held on the island from April 3 to April 6.
Participants will immerse themselves in master yoga classes, wisdom talks and have the opportunity to sample meditation, qigong, ecstatic dance and chanting. The Argus Beginners Track offers classes for beginners or those who wish to take a more gentle approach.
Drawing participants from Canada, the United States and the United Kingdom, as well as local yoga students, the Bermuda Yoga Festival will feature 11 internationally acclaimed yoga teachers and kirtan artists. The festival offers 42 sessions over the four days.
There are 16 sessions being offered as part of the Argus Beginners Track throughout the four days of the Festival. Sessions suitable for beginners are being offered by almost every teacher and the focus is on introducing participants to the discipline including basic poses, breathing techniques and relaxation practices.
Alison Hill [pictured], Chief Executive Officer, The Argus Group says, "Yoga has proven health benefits, including reducing stress and fatigue and improving strength, flexibility and general well-being. The festival puts a focus on this discipline and Argus is pleased to support the Beginners Track classes to allow for everyone to give yoga a try."
Frances Marshall, one of the organisers of the Bermuda Yoga Festival, says: "We are excited to be hosting the first Bermuda Yoga Festival this year. The festival is designed to give everyone an opportunity to do yoga at their own level in the beautiful setting of Bermuda. We appreciate the support that Argus is providing by sponsoring the Argus Beginners Track. The beginner aspect is an important one as we encourage more people to give yoga a try."
Day passes start at $235 and full festival passes are $499. The schedule and passes are available at www.bermudayogafestival.com. Argus Beginner classes are marked with ABC. All sessions take place at The Fairmont Southampton.
Read More About
Category: All