The Argus Group today [April 11] announces its sponsorship of the beginner's track of the Bermuda Yoga Festival that is taking place from April 29 to May 1, 2016.
International and local yoga teachers alongside energy healers, musicians and storytellers will lead the workshops that include asana, energy flow, mantra, meditation, breath work, yoga philosophy, chanting and more.
There are 12 sessions being offered as part of the Argus beginner's track throughout the three-day festival. Sessions suitable for beginners and those who want a gentler practice are being offered by almost every teacher and the focus is on introducing participants to the discipline and basic poses.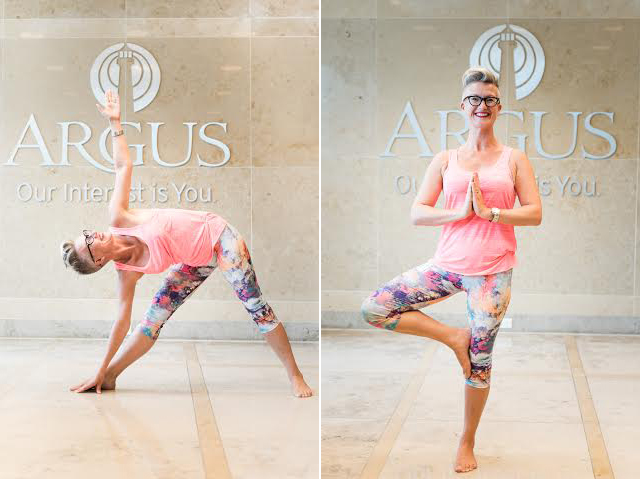 Frances Marshall, one of the organisers of the Bermuda Yoga Festival, says: "I would like to thank Argus for their ongoing sponsorship of the beginner's track of the Bermuda Yoga Festival.
"It is due to their support that we can make the festival an exciting and transformative experience not only for experienced practitioners, but also for those people who wish to try yoga for the first time."
Alison Hill [pictured above], Chief Executive Officer of the Argus Group, says: "Yoga is a workout that includes stretching, core and strength building, as well as relaxation and breathing techniques.
"We sponsor the beginner's track of the Bermuda Yoga Festival in an effort to introduce more people to this beneficial health practice.
"Whether you are young or old, have tried yoga before or are a first timer, we encourage you to participate in the festival. Your health and your body will thank you!"
Ticket prices range from $80 for a half-day to $495 for a full festival pass. For more information about the Bermuda Yoga Festival and to purchase tickets, visit www.bermudayogafestival.com. Argus beginner classes are marked with B. The festival will take place at Grotto Bay Beach Resort.

Read More About
Category: All