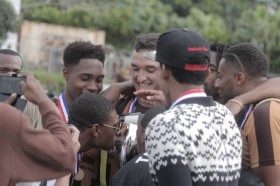 The Dandy Town Hornets are the 2013/14 Premier Division Champions, after defeating Devonshire Cougars 7 -2 at the BAA field.
The Dandy Town Hornets went in front in the 13th minute when Zaire Burchall scored, but the Devonshire Cougars would strike back in the 29th minute when Makai Battersbee found the back of the net and when Mark Steede scored three minutes later the Devonshire Cougars took a 2 – 1 lead.
Angelo Simmons drew the Dandy Town Hornets level with a goal in the 40th minute and then on the stroke of half time Jahmel Swan scored giving the Dandy Town Hornets a 3 – 2 lead.
The second half was all the Dandy Town Hornets as Damon Ming scored in the 57th minute, Simons scored his second in the 80th minute and Ming then added his second in the 82nd minute and when Rico Wells slammed his left footed shot home in the 88th minute it sparked wild scenes of celebration, as Dandy Town claimed the league title.
Category: All