After years of public clamoring, Microsoft has released its popular Office software in app format for the Apple iPad, allowing users of their popular software to access them via their tablets.
According to the Microsoft blog, "We unveiled Office for iPad – specifically Word, PowerPoint, and Excel. But this isn't simply Office on another device. We thought a lot about what people want to do when they're on their tablet, iPad functionality, and touch-first when we were building Office for iPad.
"We reimagined Office on the iPad, while retaining what people love about Office. We hope you'll be as pleased with the results as we are. In the future, we will bring Office apps to the Windows Store and other popular platforms. In addition to Office for iPad, we've gone a step further in our mobile first and cloud first approach, and like Windows Phone, we've now made Office Mobile for iPhone and Android phones available for free."
An example of Microsoft Office Excel running on an Apple iPad: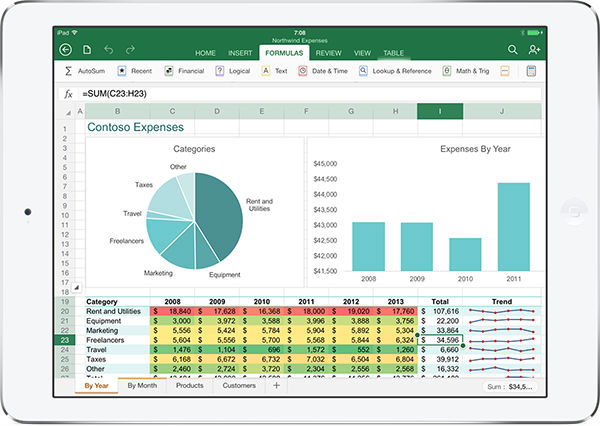 "We know you've been wanting it, and starting today, you can download Word, Excel and PowerPoint for iPad from the App Store. The apps have the robust capabilities and familiar look and feel that is unmistakably Office, while offering a fantastic touch experience built from the ground up for iPad.
"With the free versions of the apps, you can read your Word documents, view your Excel data and present with PowerPoint. Your documents will look as good as they do on your PC and Mac, and better than ever on your iPad.
"With an Office 365 subscription, you can edit and create new documents with the iPad. When you edit a document, you can be sure that content and formatting will be maintained across Office on PC, Mac, tablet and phone. And, you always have access to your up-to-date documents in OneDrive and OneDrive for Business."
Official teaser video showcasing Microsoft Office apps for the Apple iPad:
Along with the news of the release of Office apps for iPad, Microsoft also announced that they were making their Office apps for the Android operating system free as well.
"Just like Office Mobile for Windows Phone, we are making Office Mobile for iPhone and Android phones free for everyone. With Office Mobile, you have the ability to view and edit your Office content on the go. Office Mobile is available in the App Store and Google Play."
Read More About
Category: All, technology