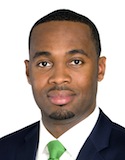 The financial statements for the year ending March 31, 2013 have been tabled in Parliament, and Shadow Minister of Finance David Burt said, "What is sure to be of interest is that the financial statements are not qualified as they have been in previous years.
"The Auditor General states that she received an 'independent professional valuation' which affirmed that the valuations of Capital Assets, which caused her to issue qualifications in previous years, were in fact correct.
"We are pleased that the Auditor General has seen fit to remove this qualification, but given that there were no adjustments required, it should put to rest the accusations made by the Minister of Finance when he was in opposition that, 'There remain serious questions about the integrity of the numbers.'
"Given today's removal of the qualification and no adjustments being made to the value of the Capital Assets we can put this era of, 'These questions, these doubts and uncertainties about the handling of the people's money' behind us.
"In order for our country to succeed, we must have trust in the civil servants who work for the government without fear or favour. The aspersions cast upon these hard working citizens by Minister Richards were uncalled for at the time and we are pleased that the integrity of their work has been confirmed," concluded Mr. Burt.
Read More About