Two participants in the the 2014 Bermuda Beach Art Festival, held on Saturday [Mar 29], took the time to take a time lapse video of their entry, giving viewers a look at their 20 minutes of work in the sand.
Earl Jones and Susan Thomas created their design along a beach on Church Bay, creating a series of shapes that covered a large section of the sand before it was washed away at high tide.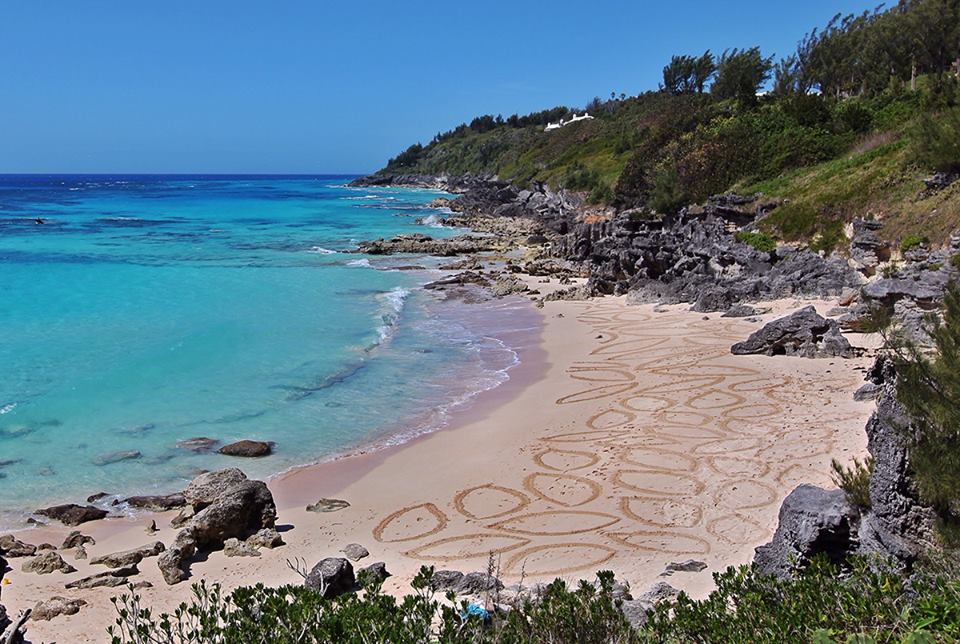 The video itself allows viewers to follow along with the progress made by the artistic pair, compressing 20 minutes of work into less than two minutes of time lapse footage. Mr. Jones and Ms. Thomas follow up that footage with interviews that provide both insight into their effort and a healthy dose of good humour.
The annual Beach Art competition invites artists of all skill levels and ages to participate in adorning Bermuda's beaches with beach art, creations that only last until the next high tide washes them away. Circles, swirls, a feather, kissing fish, and an octopus were featured among this year's sand art entries.
This year's winners included La Garza [Tara Cassidy & Natalie Sannemalm] for Best Overall for "Herons' Flight" on Horseshoe Bay, Adrianna Anfossi's "Circle Design" on Coral Beach earned the win in the Teenage Division, the Family Division was won by the Hastings Family for their "Kissing Fish" design on Jobson's Cove, and Team Sandy Cheeks won the Adult Division with their "Waves" entry on Elbow Beach.
Read More About