Digicel Bermuda announced the dates of its 2014 Digicel Kick Start Programme, in which three of the world's best youth coaches from the Chelsea FC Foundation will lead the search for Bermuda's top footballing talent. The Digicel Kick Start Clinic will run May 9th through 11th 2014.
In its second year locally and eighth year globally, the Digicel Kick Start Programme will see thousands of aspiring young footballers from across 14 countries in the Caribbean and Central America try out for their chance to travel to the Digicel/Chelsea FC Academy in Barbados and train under top coaches from Barclays Premier League side, Chelsea FC.
Team Bermuda at 2013 Digicel Kick Start Academy in Barbados, Te'Vahn Tyrell, Amar Lewis, Tyriko Williams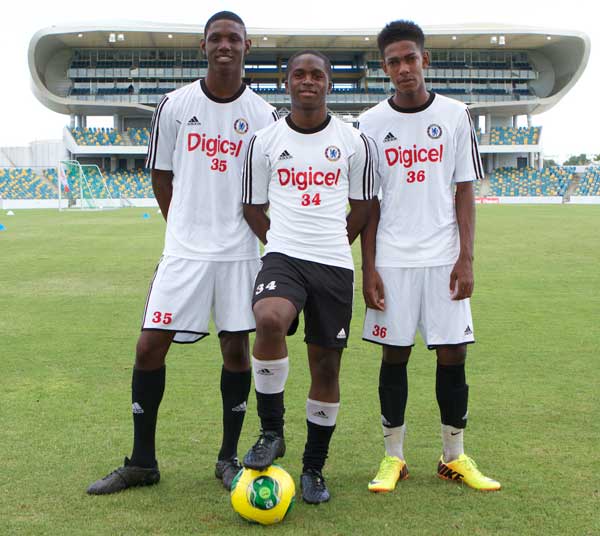 To ensure that Bermuda's top footballers are well represented, Digicel Bermuda reached out to local high schools and the Bermuda Football Association for nominations.
Qualifying candidates must be under the age of 16 years and must have been born between 1998 and 2000. Those registered will partake in pre-sessions scheduled to kick off this Sunday, April 20th led by Coach Kevin Johnston of the Bermuda Athletic Association [BAA].
BAA coaches will assess all confirmed footballers and select a maximum of 30 to participate in an intense two-day Clinic with Chelsea FC coaches beginning May 9th 2014. Subsequently, the Chelsea FC coaches will select three athletes to join their regional counterparts in Barbados in October.
"Last year's event was a huge success and proved a fantastic opportunity for youth football in Bermuda," comments Wayne Caines, CEO of Digicel Bermuda. "
Not only will our island's young, aspiring footballers have the opportunity to learn from professionals in the sport, but a joint training session will see our local coaches taken through the very latest in training and coaching techniques used by Chelsea FC youth teams and then applied during Day Two of the Clinic."
Additionally, for the first time in the history of the programme, the coaches from the Chelsea FC Foundation are introducing a girls' coaching session, further underpinning Digicel's commitment to the development of the sport among young people regardless of their sex.
BAA President, John Doran comments, "The BAA is once again delighted to be partnering with Digicel in this regard. This is a fantastic opportunity being afforded to Bermuda's youth from Digicel and Chelsea FC. We look forward to a successful event and are certain that those who participate will benefit tremendously from this initiative."
For more information related to the Digicel Kick Start Programme visit digicelfootball.com. To register an Under 16 footballer or coach email info.bermuda@digicelgroup.com.
Photo Credit: Alwyn Kirk
Read More About