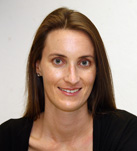 Bermuda's Dr Katie Davis was one of the featured speakers earlier this week at the Berlin TEDSalon — the first official TED event in Germany — with the author and educator delivering a speech on the "App Generation."
The theme of TEDSalon Berlin was "Bits of Knowledge," with the sold out event exploring the forces of politics, science and technological innovation, which are combining to create change at a faster and faster pace.
Dr. Davis is an Assistant Professor at The University of Washington Information School, where she studies the role of digital media technologies in adolescents' academic, social, and moral lives. She also serves as an Advisory Board Member for MTV's digital abuse campaign, A Thin Line.
Prior to joining the faculty at the UW iSchool, Dr. Davis worked with Howard Gardner and colleagues as a Project Manager at Harvard Project Zero, where she was a member of the GoodPlay Project and Developing Minds and Digital Media Project research teams.
Dr. Davis is the co-author with Howard Gardner of "The App Generation: How Today's Youth Navigate Identity, Intimacy, and Imagination in a Digital World," which was published in October 2013 by Yale University Press.
The app generation may be more dependent than enabled: @katiebda @TEDxBerlin1 #TEDSalonBerlin #TED #TEDx #TEDxBerlin pic.twitter.com/SmsxitvXrR

— Lukas Streiff (@LukasStreiff) June 23, 2014
She graduated from Harvard Graduate School of Education with a doctorate in Human Development and Education, and also holds Master's degrees from Harvard in Mind, Brain, & Education as well as one in Risk & Prevention.
Dr. Davis has applied her knowledge to the island, producing a report entitled "The Role of New Media Technologies in the Lives of Bermuda's Youth." One of the statistics the 16-page report [PDF] reveals is that 95% of Bermuda's teens spend more than an hour online in a typical day.
Read More About
Category: All, News, technology