A symposium was held last week in Panama City, Florida in order to celebrate the 50th anniversary of the historic Sealab 1 mission, which took place only a few miles off the coast of Bermuda.
The mission saw an underwater habitat, dubbed Sealab 1, submerged into the Atlantic by the United States Navy in order to research the effects of extended periods spent living and working underwater.
SeaLab I on land at the U.S. Naval Station in Bermuda in 1964: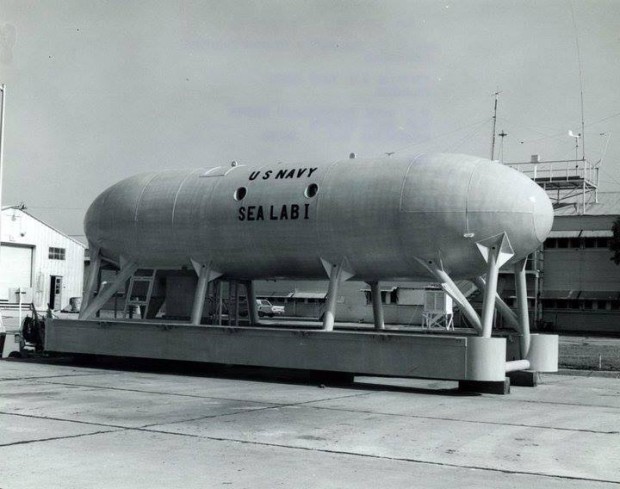 On July 22, 1964, four Navy divers – LCDR Robert Thompson, Gunners Mate First Class Lester Anderson, Chief Quartermaster Robert Barth, and Chief Hospital Corpsman Sanders Manning – submerged to a depth of 192 feet, and surfaced early on July 31, 1964 due to an impending tropical storm.
The aquanauts spent six hours a day working on the ocean floor; as they were based in the ocean and did not have to travel to the surface and back, they completed tasks in a week that normally required a year with conventional divers.
1965 video from the U.S. Navy documenting the SeaLab 1 expedition off Bermuda [28 minutes long]:
Sealab 1 was constructed from two converted floats and held in place with axles from railroad cars, and is now on display at the Man In the Sea Museum. Founded in 1982 and located in Florida, the museum showcases the progress of underwater technology, from the earliest days of diving to the most modern underwater habitats.
Earlier this year, it was revealed that the museum was raising funds to restore Sealab 1 in honour of its 50th anniversary.
Read More About
Category: All, Environment, History