The Department of Youth, Sport & Recreation announced that the 19th Annual Bermuda Sand Sculpture Competition will take place on August 30 at Horseshoe Bay Beach from 10:00 a.m. – 4:00 p.m.
In preparation for the annual event, this weekend residents and visitors can learn tips, tricks, tools and techniques of sand sculpting. Clinics will be held on August 23 and 24 at Horseshoe Bay Beach from 5 p.m. to 6 p.m.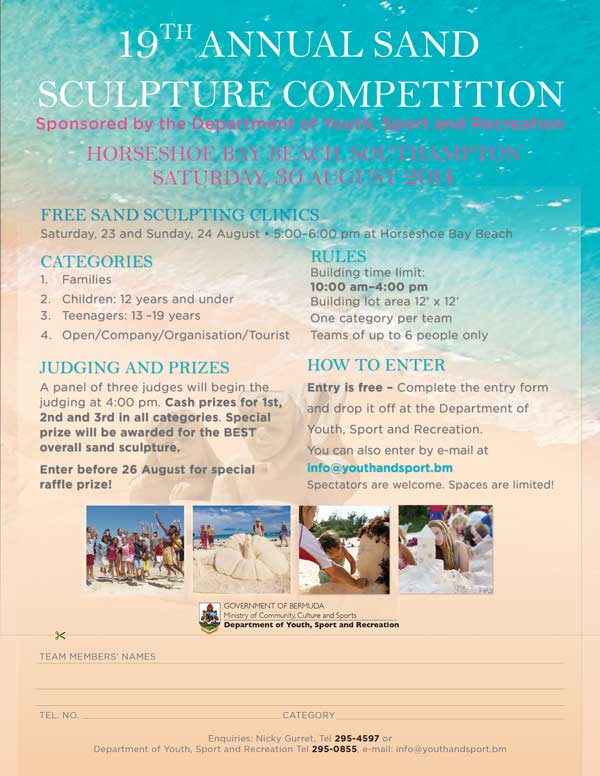 Director of Youth, Sport & Recreation, Norbert Simons said, "The Sand Sculpture competition was started 19 years ago by the Institute of Bermuda Architects and spear headed by Mrs. Nicky Gurret. This event has grown in participation and popularity and has proven to be a highly anticipated weekend of fun for residents and visitors."
The 19th Annual Bermuda International Sand Sculpture Competition takes place on August 30 and all are invited to enter, registration is free. Categories are families; children 12 years and under; teenagers; open [companies, organization and visitors].
There is an opportunity to win several prizes and no experience is necessary. Prizes for amateur sand sculptors include cash prizes for 1st, 2nd and 3rd place winners in each category.
For more information, please contact the Department of Youth, Sport & Recreation at 295-0855 or Nicky Gurret at 295-4597 email to info@youthandsport.bm
Read More About
Category: All, Entertainment, News