[Updated] Last night [Aug 29] Bermuda's Youth Olympians returned home from the Youth Olympic Games in Nanjing, China, with seven of the island's finest young athletes competing against the best teenage athletes from around the world.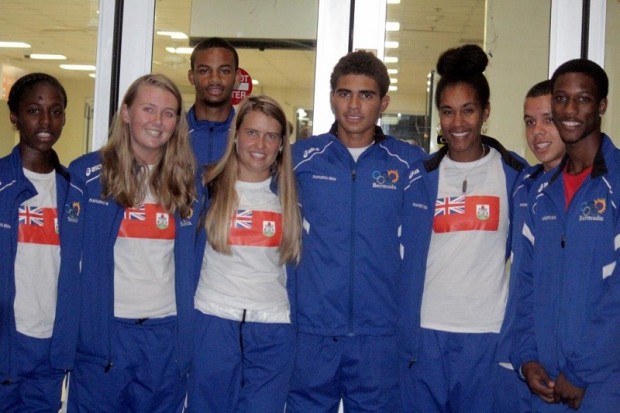 Bermuda was represented at the 2014 Youth Olympics in four sports by seven athletes; Faheemah "Kyrah" Scraders [athletics], Jah-Nhai Perinchief [athletics], Kionje Somner [athletics], Cecilia Wollmann [sailing], Jesse Washington [swimming], Erica Hawley [triathlon], and Tyler Smith [triathlon].
The team, and Chef-de-Mission Katura Horton-Perinchief, were greeted at the airport by the Bermuda Olympic Association President Judy Simons, Junior Minister of Education Leah Scott, as well as family and friends.
After the Junior Minister welcomed the athletes home, BOA President Ms. Simons told the crowd, "I can sincerely say that our sports that they represented us in are in very good hands. Our future is secure as long as they stay focused and we continue to support them. There is nothing they can't do going forward."
Update: Shadow Sports Minister Michael Weeks said, "The Progressive Labour Party congratulates our Junior Olympians on their inspiring performances at the Junior Olympics held in Nanjing, China.
"With continued dedication to their crafts, we are confident that these young athletes will be representing Bermuda at the highest level of athletics in the years to come."
Read More About