Bus driver Mark Anderson used a different mode of transportation yesterday [Sept 18] to make his way from Dockyard to St. George's, with the kindhearted entertainer walking the length of the island in a bid to raise money for the Centre Against Abuse.
He started out from the Maritime Museum Dockyard at 6.00am and walked the length of the island, saying that his "favorite highlight was when the cannon at Fort St. Catherine was shot off as a finale."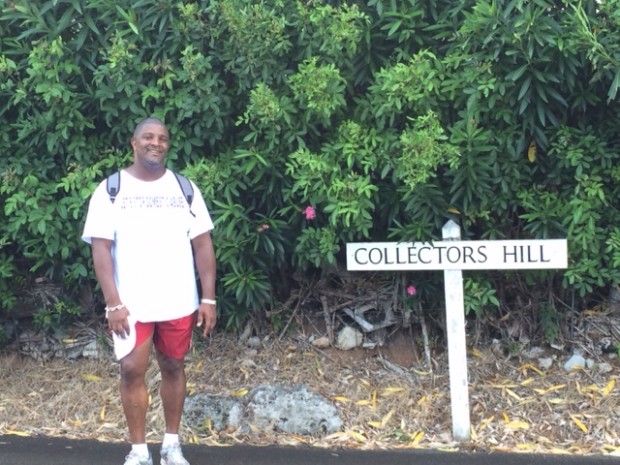 "What a wonderful show of love and support from the community," said Mr. Anderson, who completed the walk in approximately eight hours, beginning at 6.00am and finishing at around 2.00pm. He was joined by around half a dozen other walkers, who all set out to help raise money for the Centre Against Abuse.
Zakiya Johnson, who also made the walk, said it was heartwarming to see how many people tooted their horns and waved or shouted out words of encouragement along the way.
"Individuals and couples literally stopped their cars on the side of the road to give cash as well as cheques to Mark, which were passed on to Laurie at each rest stop," she said.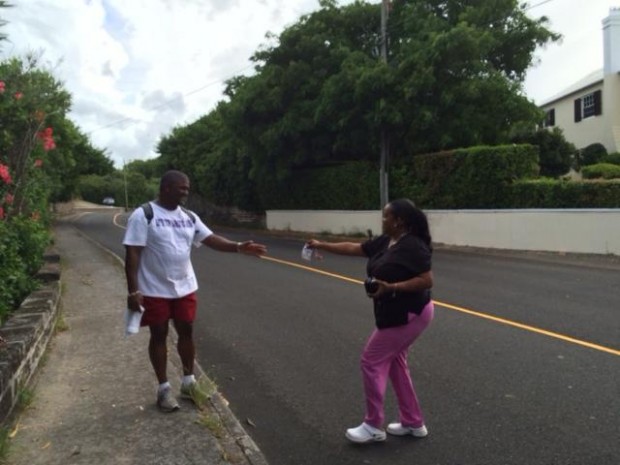 Ms. Johnson added, "I had originally planned to walk a mile or maybe to Barnes Corner, but Mark's energy and spirit was so positive, so warm and welcoming, that he inspired me to keep walking with him.
"He kept saying 'for the cause' whenever his heels were hurting him or he was feeling weary – 'it's for the cause'. Bermuda is a considerably hilly place, and that is made all the more clear when you're using your legs as your engine, but he did it.
"Laurie's energy was great and positive as well. She was happy to share about where Bermuda is in terms of the real need. Her insight and perspective as we walked along Scaur Hill and on to Barnes Corner really added to my understanding and was a further driving force for why we need to keep walking and raising awareness. "
"Mark did not know that the Centre Against Abuse was going to do water stops along the way, with oranges and refreshments. He continued to be touched and to talk about how much he appreciated the staff and volunteers' willingness to support his efforts.
"He was so grateful."
.
Mr. Anderson, who noted that after his walk that he has a "new found respect for some of the hills in Bermuda," has asked people to make a donation, big or small, to the Centre Against Abuse.
Donations can be made to The Centre Against Abuse's HSBC account #010 284 636 001, or at Crawl Esso Gas Station.
The Centre Against Abuse, registered charity #146, provides intervention, support, and education on all forms of domestic abuse, with a mission to provide safe shelter, support, and tools for those involved in domestic abuse and education and prevention to the community.
Read More About