Bermuda's preeminent female impersonator, Mark "Sybil Barrington" Anderson, will be the feature entertainer at Sybil Returns, a show featuring "dynamic 2015 female impersonators" with a Mother's Day theme, with proceeds to benefit the Centre Against Abuse [CAA].
The show will take place on Sunday, May 10 at City Hall; doors will open at 7.00pm, while the show will get underway at 7.30pm.
Tickets are available at bdatix.bm, or at Shannon's by calling 292-5349, and cost $45, or $75 for patrons.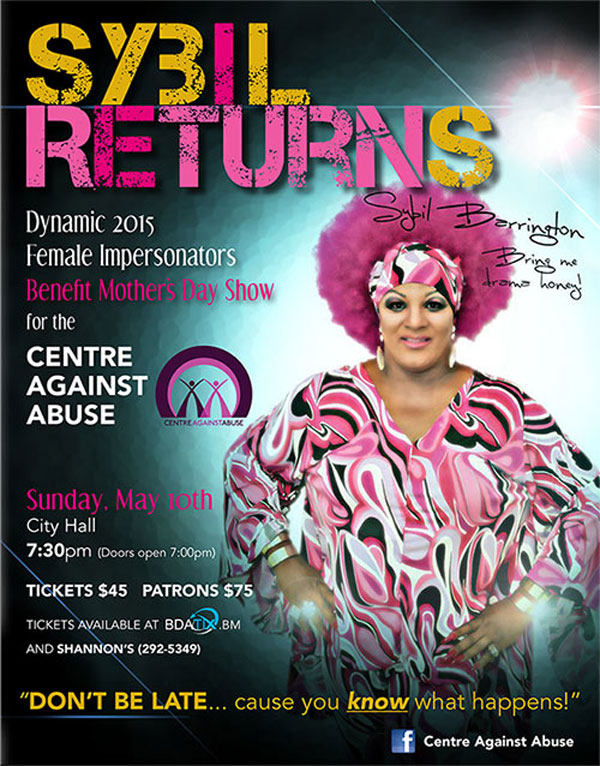 When asked why he chose to support the Centre Against Abuse, Mr. Anderson said, "It all started back in August when CAA was looking for assistance pertaining to the shelter closing down. I realized that, after a period of time and not seeing anyone coming forward, I felt the need to do something, and I did a charity walk for them in September.
"After the walk, I stated that I would love to do a show next time for CAA, and here we are. I grew up with violence in the home. I grew up with my stepfather beating my mother. At that age in my life, I could not understand how a man could beat a woman that he was supposed to have loved. I still don't understand it.
"Like many other children who are living through domestic violence as the silent victims, I didn't know what to do. Now that I am of an age to do something, this is how I give back for my mother, children who are just how I was at a young age, and all the other victims of domestic violence."
When asked what those in attendance should expect from the show, he said, "High class drama! The audience can expect a lot of love, laughter, and professional entertainment with stylish costumes and gowns.
"We will have local entertainers and signature international celebrity look-a-likes performing a variety of show stopping performances."
When asked if Sybil Barrington would be performing at any other upcoming local events, Mr. Anderson said, "Sybil can promise you that she does have something under her heel that she is planning for September for Centre Against Abuse, so stay tuned.
"For those who cannot attend my show on May 10, you can still make a contribution to the Centre Against Abuse by making a donation in my name to their HSBC account 010 284 636 001."
Read More About
Category: All, Entertainment, News