Now in its 17th year, the PartnerRe Women's 5K Run and Walk, presented by Mid-Atlantic Athletic Club [MAAC], sponsored by PartnerRe Ltd, and sanctioned by the Bermuda National Athletics Association [BNAA], is set to take place on October 5, 2014.
A spokesperson said, "One of the few all female events on Bermuda's sporting calendar, it includes a 5K race for women, as well as a 5K walk and a 2K run for girls under 15. The goal is female fitness, health, safety, and self-esteem, with all proceeds going annually to a cause that promotes these values.
"Since 1998, the PartnerRe Women's 5K Run and Walk has raised more than $390,000 for female-related causes in Bermuda, including programmes to fight heart disease, confront physical abuse, support rape victims, educate teenagers, combat breast cancer, and fund equipment and initiatives supporting the treatment of women's health.
"2014 marks 17 years of support for women's causes in Bermuda, and this year all entry fee proceeds, matched by title sponsor PartnerRe Ltd, will go directly to the Bermuda Diabetes Association's Gestational Diabetes Project."
Action from the 2012 iteration of the event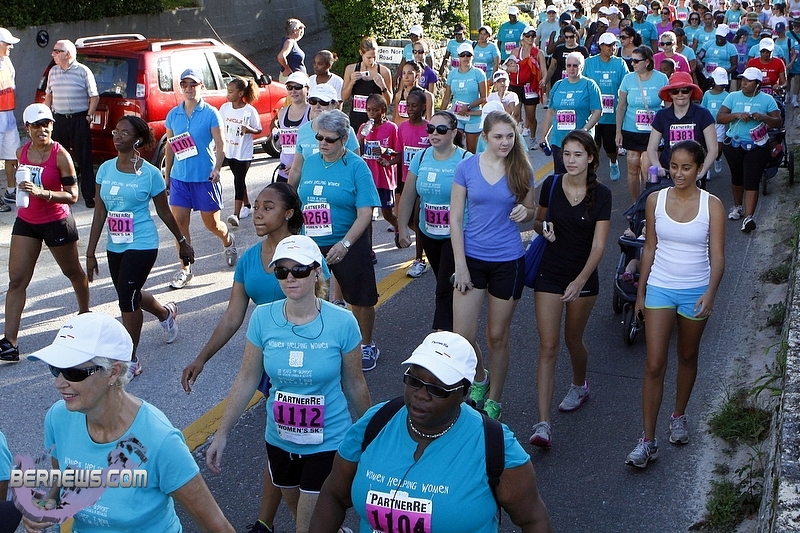 "Join the tradition of the last 15 years and walk or run the 5K route between Botanical Gardens and Lovers Lane, Paget, to help support this important women's cause. There will be a new 2K route for girls this year.
"After the race, relax at the Gardens and enjoy a nutritious breakfast available to all participants, generously donated by Butterfield and Vallis. There will also be 1,000 fantastic goody bags available for the first 1,000 ladies at number pick-up on October 5 between 9.00am and 11.00am.
"The closing date for entries in Sportseller is October 1; entries can also be made online.
"Race awards include thousands of dollars in prizes for all age categories, plus fantastic draw prizes and grand draw prizes. Draw prize winners must be present at time of draw.
"We would like to thank this year's major sponors for their support for this wonderful cause, including Digicel, Strands, KPMG, Bolero, Winner's Edage, Sportseller, Stefanel, Inner Sanctum, Phoenix Stores, Newstead Belmont Hills, and the MarketPlace."
For more information, please go to the PartnerRe 5K website or register online.
Read More About