Now in its 19th year, the PartnerRe Women's 5K Run & Walk is presented by Mid-Atlantic Athletic Club [MAAC], sponsored by PartnerRe Ltd. and sanctioned by the Bermuda National Athletics Association [BNAA].
One of the few all female events on Bermuda's sporting calendar, it includes a 5K race for women, a 5K walk and a 2K run for girls under 15. The goal is female fitness, health, safety and self-esteem—and all proceeds go annually to a cause that promotes these values.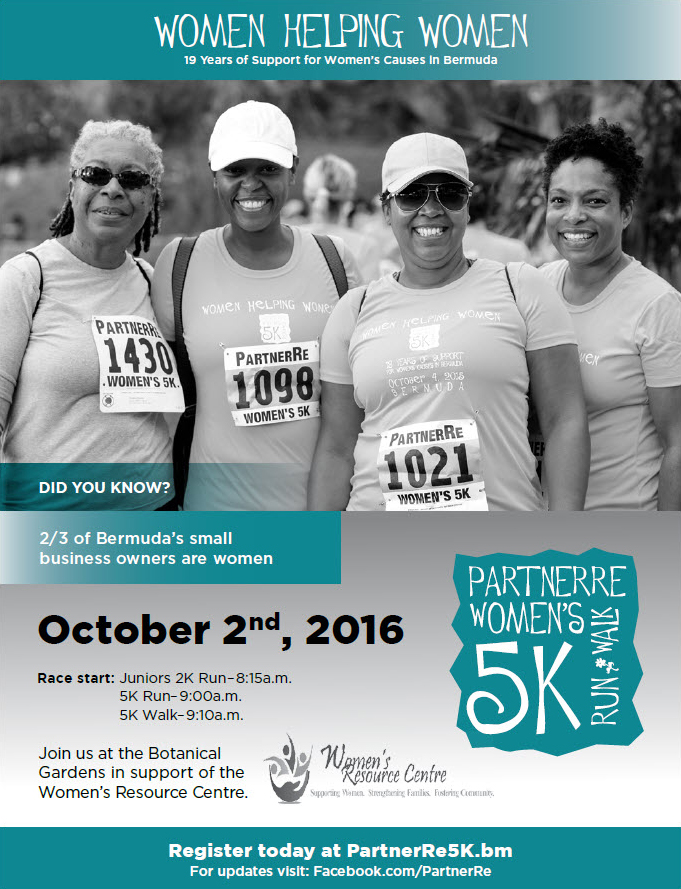 Since it began, the PartnerRe Women's 5K Run & Walk has raised more than $400,000 for female-related causes in Bermuda, including programmes to fight heart disease, confront physical abuse, support patients with Alzheimer's and dementia with occupational therapy services, educate teenagers, combat breast cancer, and fund equipment and initiatives supporting the treatment of women's health.
This year marks 19 years of support for women's causes in Bermuda and this year, all entry fee proceeds — matched by title sponsor PartnerRe Ltd. — will go directly to the Women's Resource Centre [WRC].
Slideshow of last year's PartnerRe Women's 5K Run & Walk
.
The WRC advocates for the advancement of women by addressing key issues that women are facing in the Bermuda community.
"We're very proud to be able to support the Women's Resource Centre, and we encourage women and girls to come out this Sunday [October 2] for this year's event to make it another big success," said Jaime Masters McDowell, Corporate Communications Brand Manager, PartnerRe.
For more information or to register, please visit: www.partnerre5k.bm

Read More About