With Tropical Storm Fay traveling towards Bermuda and due to pass by its closest point at 3am on Sunday, the south shore of Bermuda showed signs of the brewing storm with wave activity growing as time drew on.
Some spectators made their way to popular South Shore locations to watch the activity, with a few taking to the water and a some surfers riding the waves.
The Silk Spider is also known as the "Hurricane Spider" due to its ability that some say has to predict bad weather. The spiders are normally found in various parts of Bermuda up high in trees and bushes, however when bad weather is brewing they are said to move closer to the ground. We found one in Warwick a couple feet off the ground hidden in some hedges.
According to the latest data from the U.S. National Hurricane Centre, Fay is about 165 miles [260 km] south of Bermuda as of 9pm this evening, and is moving at 18 mph [30 km/h] with maximum sustained winds of 70 mph [110 km/h].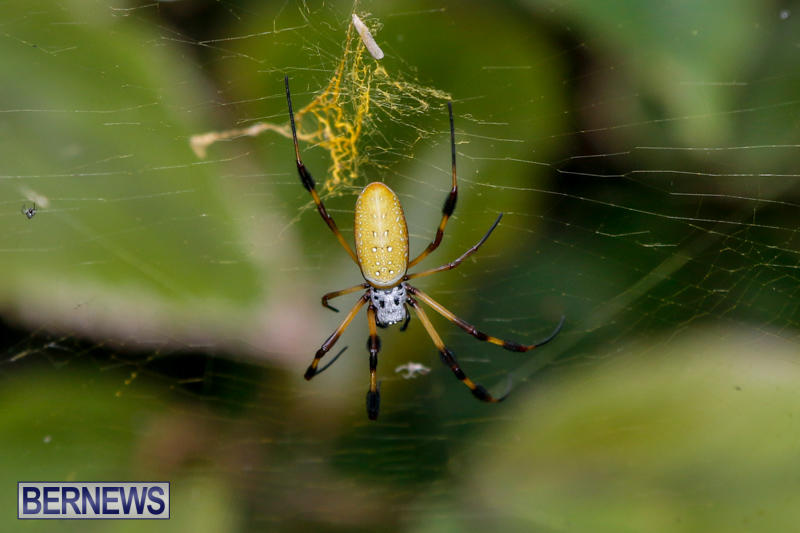 The Bermuda Weather Service issued both a Tropical Storm Warning and Hurricane Watch, saying that Fay's closest point of approach to Bermuda is forecast to be 41 nautical miles to the south-south-east at 3am on Sunday.
"Winds, showers, and the risk of thunder rapidly increase this evening as Tropical Storm Fay draws near," the BWS said. "Strong tropical storm force winds arrive this evening and remain through the night as Fay passes to the near southeast very early Sunday morning. Winds may briefly increase to hurricane force as Fay passes."
In the BWS forecast discussion, Michelle Pitcher said, "The strongest winds are expected to arrive around 2-3am Sunday morning with gusts to 60 knots in elevated and exposed areas and in any heavy thunderstorms. These winds are expected to decrease just before dawn on Sunday.
For the latest updates on Tropical Storm Fay please see our live blog here.
Click to enlarge photos:
Read More About
Category: All, Environment, Environment, News, Photos