The Bermuda Fire and Rescue Service continued their Fire Safety Awareness Week activities yesterday [Nov 21], taking a truck to City Hall to assist in decorating the Christmas tree.
Acting Deputy Chief Fire Officer Dana Lovell said, "Today, we're just partnering with the Corporation of Hamilton and helping them to decorate the annual Christmas tree."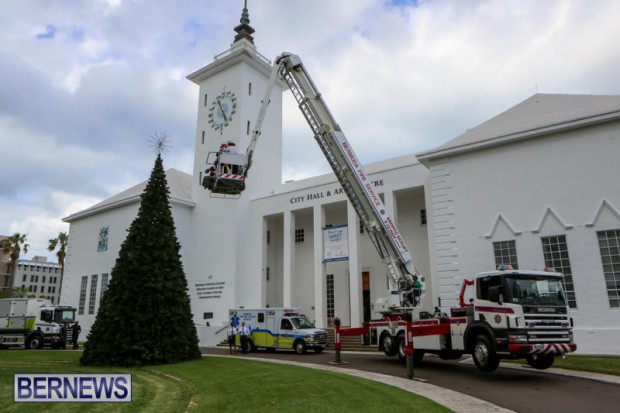 "The Fire Service is just now ending it's annual Fire Safety Awareness Week where the campaign this year has been, 'Smoke alarms save lives, test yours every month.' So this is just a way of ending Fire Safety Awareness Week to punctuate and underscore the importance of fire safety every year," continued Mr. Lovell.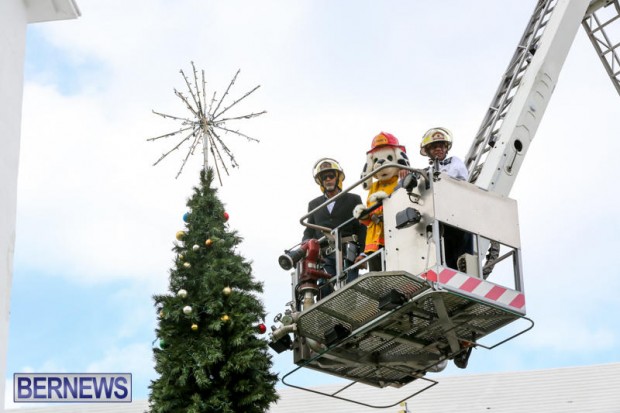 "We wanted to showcase some of the vehicles that the Fire Service has in its fleet. To the rear we have what is know as the HVU or the High-Volume Pump Unit," Mr. Lovell added.
"That unit is capable of moving large volumes of water, some 8,000 liters a minute, which works to 21,000 gallons of water per minute. We also have our ambulance, and we have one or two of our staff cars here as well."
Click to enlarge photos:
Read More About