A large crowd made their way to the Fairmont Southampton last night [Nov 21] as a full slate of boxing matches took place, with both professional and amateur bouts featuring Bermudian and Canadian boxers.
While the title match up of the night with Bermuda's Teresa Perozzi didn't end in victory, Bermuda's Nikki Bascome delivered a big victory in his pro debut in Bermuda, defeating Joe Marchand Tipping from Canada.
Reis vs Perozzi match: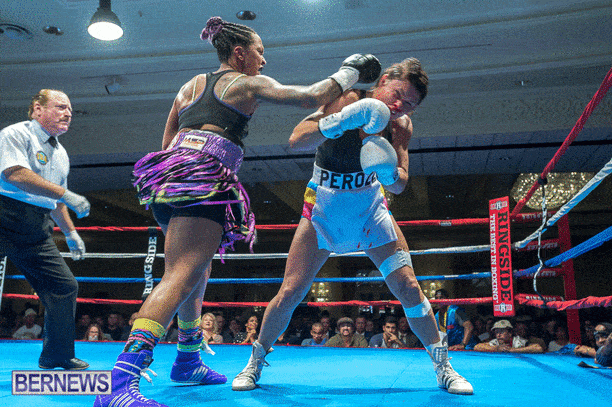 Teresa Perozzi, making a comeback following the birth of her second son, went down in the third round of her IBA Women's Middleweight Championship bout. The 40-year-old boxer was knocked to the mat in the first and second rounds, and referee Steve Smoger stopped the fight in the third round earning Kali Reis, 28, the title.
In other action for the night, Bermuda's Chioke Tucker was defeated by Canada's Martello Jones, while Bermuda's Nikki Bascome brought the crowd to life defeating Joe Marchand Tipping from Canada in their professional welterweight bout.
Nikki Bascome defeats Canada's Joe Marchand Tipping: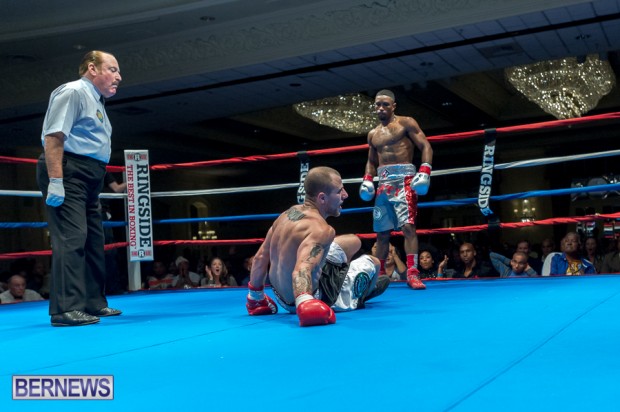 On the undercard, Tyler Christopher defeated Alpher Xian in the first fight of the night, the second fight saw Matthew Tannock defeat Omar Dill, while Deondre Morris recorded a victory over Lekan Scott.
Jeron Gunness defeated Andre Lambe in the fourth fight of the night. Corey Boyce defeated Drew Geoghegan in the night's fifth fight.
Brief clip of the Gombeys in the ring as Perozzi was introduced
Read More About