The Ministry of Education and Economic Development announced the winners of the Technology Innovation Awards [TechAwards] for 2014.
"Inaugurated in 2006, TechAwards continue to prove, year after year, that not only is Bermuda an epicentre of technology and e-business in the region, but that, perhaps more importantly, it remains a global leader in technology innovation," a spokesperson said.
Photo: Seated, from left to right: Maryem Biadillah, Department of Ecommerce; Georgia Wilson, Gorham's; William Francis, Permanent Secretary, Ministry of Economic Development; Kaitlin Baird, BIOS; Valach Pearman, Five Star Home Delivery; and Nancy Volesky, Director, Department of Ecommerce. Standing, from left to right: Henry Durham, Gorham's; Stafford Lowe, Jobber.bm; Jamillah Lodge, BEDC; BIOS Explorer Student; Aaron Smith, Chair, ECAB; Stuart Lacey, Trunomi; Marisa Stones, Department of Ecommerce; JeanPierre Rouja, LookBermuda; Joe Mahoney, Youth Entrepreneurship Initiative; and Isaiah Pearman, Five Star Home Delivery.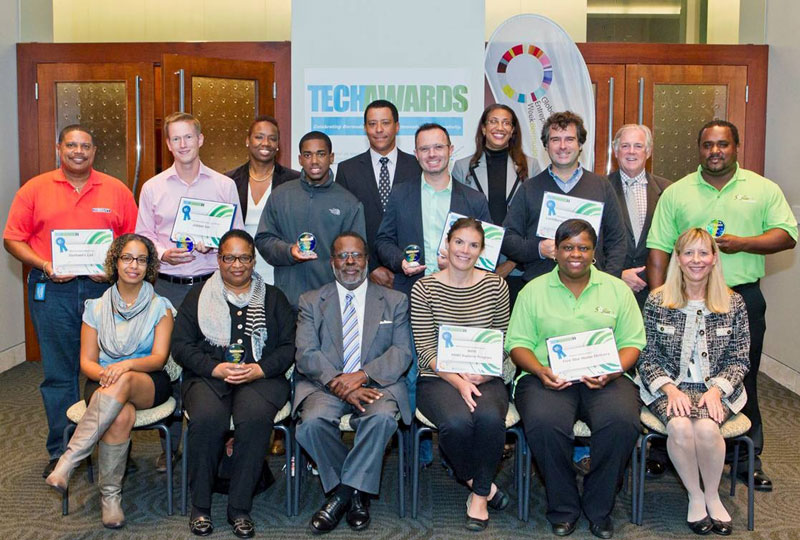 "This year, the TechAwards were handed out on November 20th at the Celebration of Innovation and Entrepreneurship reception which honors entrepreneurs that are active participants in the Digital Economy.
"The top finisher in the International Innovation of the Year, Trunomi, is a pioneering company that has developed an online personal identity protection tool for the financial services industry. There was a tie for Local Innovation of the Year between LookBermuda's live streaming technology for the Nonsuch Island CahowCam, and the employment match-making website, Jobber.bm.
"Citing the attributes of the Local Innovation winners, the judges noted the creative use of technology developed by JeanPierre Rouja. The infrared 'CahowCam,' was for the first time ever being streamed live 24/7 on the Nonsuch Island website powered by solar collectors.
"Incredibly enough, there was a dead heat finish with co-winner Jobber.bm, the island's new interactive job market where one can either post jobs or look for casual jobs on the island. Website founder Stafford Lowe noted the site's remarkable growth since its launch in April. Over 1,300 members have successfully listed over 300 jobs which, upon completion, generated over $40,000 in revenue for the contractors.
"The Most Innovative Mobile Application Award was won by Gorham's for their iOS mobile apps developed in-house by Rod Farrington. These apps allow the retailer to integrate multiple platforms, devices & data files into one focused mobile price-checking and inventory control platform.
"The Most Innovative Youth Programme was judged to be BIOS's HSBC Explorer Programme which trains M2 teachers to mentor their classes as they build underwater drone vehicles. The participating classes will take part in a competition at the National Stadium pool, which is scheduled for March 2015 As far as the People's Choice TechAward, Five Star Home Delivery rallied their customer base to capture this contest which was run on Facebook. This year, the People's Choice TechAward garnered thousands of views and votes.
"The TechAwards are designed to recognize notable achievements in information technology in Bermuda and to motivate and encourage the development of the sector through academic, industrial and charitable pursuits."
Stuart Lacey, founder and CEO of Trunomi summed up the sentiments of the winners, "We are honored to be recognized for our technology achievements, especially in the very early stages of our company. To be associated with such a prestigious award, one that works to promote Bermuda as a truly global, innovative and sophisticated technology and e-business hub, is quite an accomplishment.
"Bermuda is a fantastic location to innovate and be an entrepreneur. Top notch developers, leading edge IT infrastructure, sources of capital, and phenomenal corporate and jurisdictional governance are all well-established and readily available right on the island."
The judges also recognized the second-place finishers in the Youth category: St. David's Primary School's P2 iPad class. Headmaster Thompson accepted the Certificate on behalf of Mr. Richardson for this program. Bermudian software developer David Zuill was given a second-place certificate for his Bermuda Radar mobile app, which utilises data from the Bermuda Weather Service, including imagery from the airports' Doppler radar installation.
Cahoot.bm came in second in the Local Market category. It is a new e-commerce service which was developed by Courtney Daniels-Bushner, and which allows business owners to create online storefronts. The runner-up in the International Market category was PartnerRe's PartnerResearch App. Last but not least, Andrew Beek's website BermudaToday.com, which consolidates and lists the latest news and events on the Island, was runner-up in the People's Choice poll.
Now in their seventh year, the TechAwards were created by the Bermuda Department of E-commerce. Dr. E Grant Gibbons, Minister of Education and Economic Development stated: "I congratulate all of the winners and finalists. Their level of creativity is impressive. This year's awards clearly demonstrate yet again Bermuda's strengths in the technology field both locally and internationally, and help to showcase our Island as a great testing ground and launch pad for innovation."
This year, the awards coincided with Global Entrepreneurship Week, a celebration of those in the community who drive economic growth and expand human welfare through the development and implementation of their business ideas.
2014 Tech Awards Results
Most Innovative Youth Program
1 BIOS- HSBC Explorer Program
2 St. David's Primary School
3 Ascendant Group STEM Summer Camp
Finalist Ice Breaker Limited
Finalist Cedarbridge Academy – Tech Week
Most Innovative Mobile App
1 Gorham's Ltd
2 Bermuda Radar App
3 Waterlot Inn – Wine App
Finalist Five Star Home Delivery
Finalist BAMZS's Bermuda Reef Life HD Android app
Innovation of the Year Local Market Focus
1 LookBermuda/CahowCam
1 Jobber.bm
2 Cahoot.bm
3 Bermudatoday.com
Finalist Bermuda Tourism Authority
Finalist SPCA e-Cards
Finalist Bermy Burners – Hurricane Resources
Innovation of the Year International Market Focus
1 Trunomi Ltd
2 PartnerRe PartnerResearch App
3 XL Group – Complex Risk App
Finalist Ignition – Rapid Technology Platform
People's Choice TechAward
1 Five Star Home Delivery
2 BermudaToday.com
3 Cahoot
Finalist Ice Breaker Ltd / Code Tuna
Finalist Jobber.bm
Finalist Gorham's Ltd
Finalist LookBermuda
Finalist BIOS Explorer Ocean Academy
Finalist Nothing to do in Bermuda
Finalist EasyPark Mobile
Finalist BermudaCamps
Finalist Dernier Cri
Finalist Bermuda Radar App
Finalist Bermuda Explorer
Finalist Bermuda Tourism Authority
Finalist SPCA E-Cards
Finalist yCompliance
Finalist BermyBurners Hurricane Resources
Finalist 5th Step Cyber Security Health
Finalist BZS Bermuda Reef Life App
Finalist CCR Parts Shop
Finalist Supatone Innovation
Finalist St. David's Primary School
Read More About
Category: All, Business, News, technology