The Bermuda Football Association [BFA] had much to celebrate on Thursday evening at the 2015 Celebration of Entrepreneurship and Innovation awards presentation as their mobile application won 'Innovation of the Year'.
The event was part of Global Entrepreneurship Week which is put on each year by the Bermuda Economic Development Corporation [BEDC] and the Department of E-Commerce.
"The competition for the Innovation of the Year was very strong with five excellent new technologies in the running causing the judges to deliberate long and hard," explained Director of E-Commerce Marisa Stones.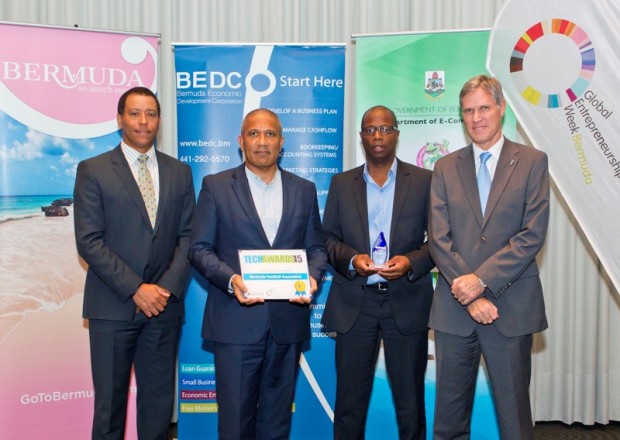 The Bermuda FA app is the response to the demand within the Bermudian football community for up-to-date information on a myriad of critical operational data including player authorizations, schedules and standings, plus scores, news, rosters, photos and more for all teams from the Premiere to Youth League.
Custom created by Larry Mussenden and David Sabir in collaboration with Sport-Ngin, this first of its kind comprehensive mobile application aimed at managing a sports league's activity has captured FIFA's attention as a viable tool which could be used in other jurisdictions.
BFA proved to be tough competition for the other nominees in this category with Premier Market, a sophisticated electronic shopping platform coming in second followed by another Fireminds nomination for a package-tracking platform build for mailboxes Unlimited.
Larry Mussenden said at the event, "Everyone in this competition is a winner. Look around this room – there are people from such a wide range of backgrounds here. Take pride in the fact that you are among a group of people who are moving Bermuda forward.
"I congratulate the Ministry of Economic Development and the Department of E-Commerce who put this awards program together. Finally, on behalf of the participants, I extend our thanks to the sponsors for all your support in making this event a reality."
Top honours in the Most Innovative Youth Program went to Code 441 Academy whose founder Jahde Eve's mission of empowering the youth of Bermuda through technology really captured the judges' attention.
The second place finisher was 14-year-old Ethan Humphrey with the 'Saltus Student App' which tracks schedules, assignments and projects. Third place went to Ministry of Education's Gaming Academy with program instructor Neville Zuill accepting the certificate.
Top prize winner in the Most Innovative Mobile Application of the Year was Hitch – Bermuda's own completely mobile taxi reservation app allowing the user to hail a taxi from anywhere on the island. The app even displays the cost for your trip and tracks the path it's taking to reach you via a GPS display on your mobile device. Calvin Minors, Coy Millett and programmer David Burt were on hand to accept the TechAward.
Ivan Outerbridge's Bermuda's Very Own Events App took second with Ptix's release of a mobile app for purchasing and displaying electronic tickets coming in third followed by the team at Nova who turned Chris Wellman's summer internship project into the Crown & Anchor Royale mobile game.
This is the ninth year of the TechAwards as noted by Aaron Smith, Chairman for the E-Commerce Advisory Board when he presented Nancy Volesky with a newly introduced TechAward category which will be known going forward as the 'Founder's Award'.
"It was Ms. Volesky who started the TechAwards presentations in 2007 as a way of recognizing the achievements made in information technology in Bermuda and to further motivate and encourage the development of the sector through academic, industrial and charitable pursuits", Mr. Smith stated.
In closing the evening, the Minister of Economic Development Dr. Grant Gibbons said: "As Minister responsible for Economic Development, I cannot help but be proud of – and tremendously impressed with – the wide variety and quality of ideas that we've seen tonight.
"We've been shown mobile apps that were developed to make life easier for our students, teachers, visitors, sport enthusiasts, event goers, and every-day Bermudians, across interests locally and globally. We've heard of technology classes that are working to ensure that the next crop of innovators is well on its way to leading the country into an exciting future.
"We've been presented with business solutions that are enhancing institutional products locally and internationally. We've seen ideas that aim to assist our youth develop into healthy adults both physically and mentally, while others offer solutions to many of the challenges commonly presented by our modern world.
"It is rewarding to see the remarkable concepts presented tonight, and I offer every one of the talented winners and finalists congratulations. These are all great achievements, and you should all be very proud."

Read More About
Category: All, technology