The Economic Development Department [EDD] recently held its first Leadership Innovation Awards reception to "celebrate individuals and entities who in the past year continued to capitalise on technology to create solutions," with Adrian Lodge, Coral Wells, and Edmond Johnson receiving awards.
A Government spokesperson said, "On Monday December 13th, the Economic Development Department held its first Leadership Innovation Awards reception to celebrate individuals and entities who in the past year continued to capitalise on technology to create solutions.
"The Minister for the Cabinet Office, Wayne Furbert and the Minister of Education, Diallo Rabain were also in attendance at the event, which was safely hosted, and presented awards to the winners.
Coral Wells, receiving a 2021 Technology Leadership Award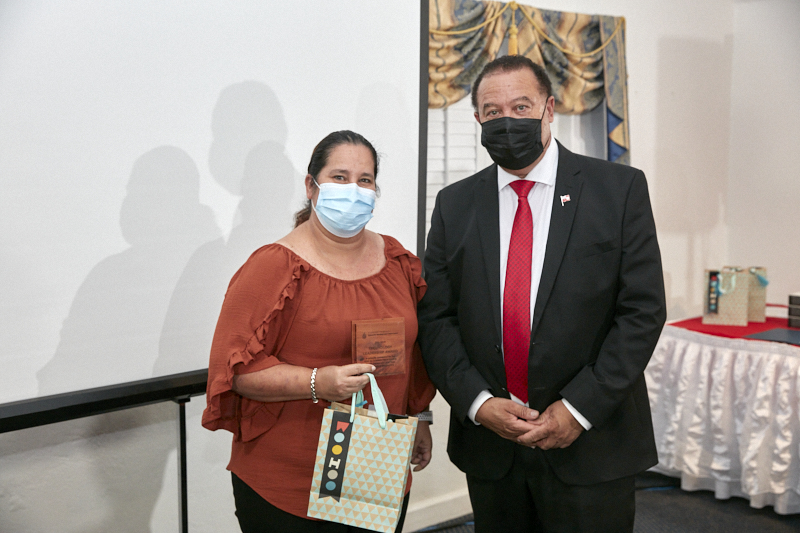 "The evening was held in two parts. The first portion of the evening was dedicated to three professionals who on their own initiative, spent considerable time developing innovative technology solutions.
"One of these problem-solvers, Mr. Adrian Lodge, had designed a solution that supported businesses through coronavirus-related restrictions and through their imposition of digitisation on many a workplace. Virtual AP now allows businesses whose staff works remotely to benefit from paperless processes with better accountability and efficiency. Virtual AP is available both locally and internationally.
Edmond Johnson, receiving a 2021 Technology Leadership Award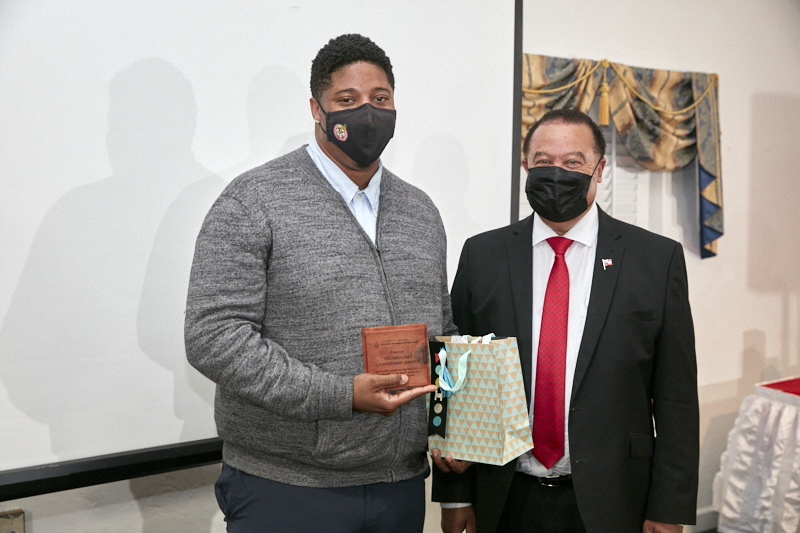 "The second leader in technology innovation recognised that evening was Mrs. Coral Wells who had found a way to virtually take a whole group of students overseas and into advanced app development, thereby ensuring that their interest in coding didn't wane over time. Together with Silicon-based @Company, these students are currently designing their own apps thanks to Connectech Coding's Advanced Coding Programme.
"And the third innovator was Mr. Edmond Johnson and his solution Test Guard. As a committed problem solving technologist, Mr. Johnson had taken a critical look at the current solutions and designed an additional option that now allows antigen tests to benefit from the credibility of an online registration system."
Kevin DaCosta, accepting the award on behalf of Adrian Lodge, recipient of a 2021 Technology Leadership Award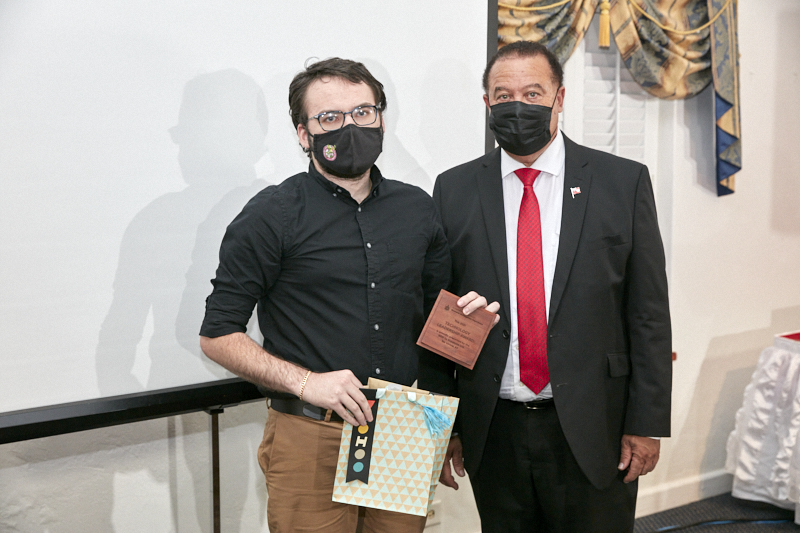 Introducing the winners of the 2021 EDD Innovation Leadership Awards, Minister Furbert said, "We are here to celebrate some of the best that Bermudian tech talent has to offer. These individuals have looked beyond the various and often unfamiliar challenges that are continuously imposed by the pandemic to help the country to continue moving forward. We are here today to celebrate the positive impact their work can have on our Island and even beyond our shores."
The spokesperson said, "The second part of the evening was dedicated to Bermuda's first Reverse Pitch student competition."
Minister Rabain said, "Celebrating Bermuda's students and their achievements was the most gratifying part of the evening. It all starts with each one of you, Bermuda's youth. You will be leading the charge; and your presentations – all of them – have shown that should you choose to continue in the technology path, you will do so very competently."
Saltus Grammar School team, 3rd place winner of the Reverse Pitch Competition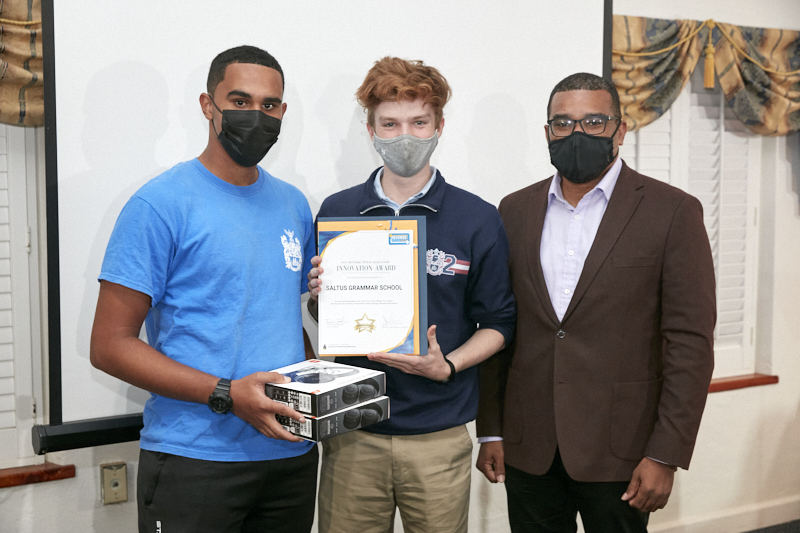 The spokesperson said, "Maryem Biadillah, Senior Analyst at the EDD, expanded on the concept of a Reverse Pitch. In contrast to a regular pitch competition where a person proposes their idea to anyone willing to hear about it, the premise for a reverse pitch is that local companies actually do the pitching, hoping that someone will develop a solution to their challenge. On October 14th, in an effort to assist local companies with innovative technology solutions to real-life pain points, the EDD had called on middle- and high-school students to participate in a technology-focused Reverse Pitch.
"Three local companies had submitted challenges: Bermuda Press, Red Laser, and Gear & Gadget. Seven school teams entered the competition and, supported by a teacher and by a tech mentor, developed a solution to the challenge they had selected, all within a mere six-week period. The participating schools were: The Berkeley Institute [3 teams], Bermuda High School team, Clearwater Middle School, Saltus Grammar School, and Sandy's Middle School.
Berkeley Institute team, 2nd place winner of the Reverse Pitch Competition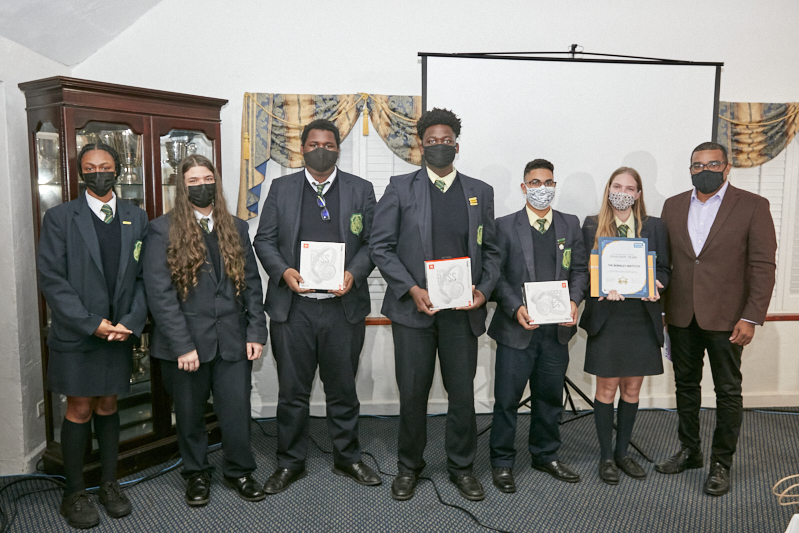 "On November 23rd, each team presented its solutions to a panel of judges. The criteria was as follows:
Is it a clearly-defined technology solution?
Does it resolve the challenge?
Does it clarify the resource requirements?
Does it have the "wow" factor?
"The competition winners were as follows:
1st Place – the Bermuda High School team, guided by Mr. Jones-Alleyne and mentored by Anu Bhardwaj: Ava Gibson, Sophie-Yumi Rouja, Marli Spriggs, Varshini Srinivasan, and Cheyenne Tavares.
2nd Place – the Berkeley Institute team, guided by Mrs. Grant and mentored by Angelika Wilson: Isaiah Hayward, Abigail Frost, and David Cole.
3rd Place – the Saltus Grammar School team, guided by Mrs. Patterson and mentored by Kerem Kolcuoglu: Clark Jeffrey and Gareth Cooper.
Bermuda High School team, 1st place winner of the Reverse Pitch Competition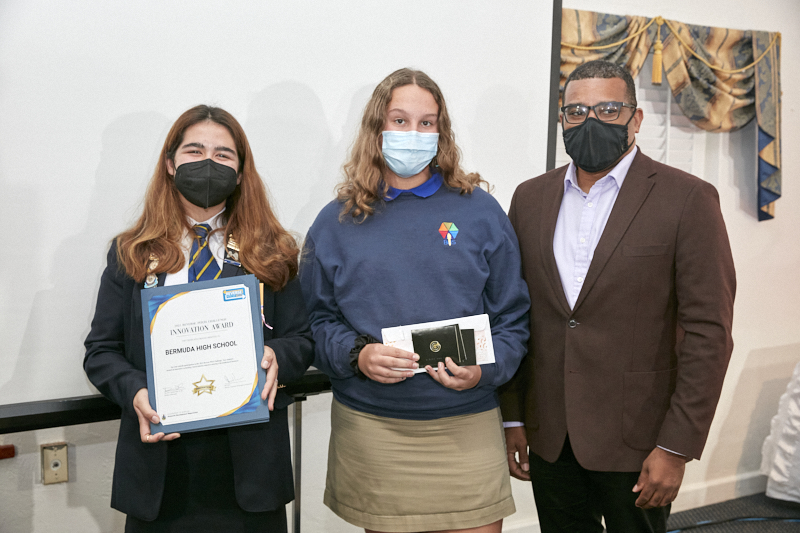 "Also each of the three winning solutions have been awarded a three-month long free access to a tech mentor so they can continue to further develop their solution."
Dante Disparte, Circle's Chief Strategy Officer and Head of Global Policy of Circle, co-sponsor of the evening, said, "It's been an honor to work with the Government of Bermuda on moving innovation forward."
Kevin DaCosta, EDD IT Consultant and member of the organising committee, said, "I am very impressed with the solutions presented here tonight. During pandemics, you often see the drive to improve falter. But that was not the case with this year's Reverse Pitch participants. They managed to overcome challenges, work alongside local companies, and develop concepts for solutions that may one day be applied in the real world.
"Another positive side to this is that the Reverse Pitch has allowed the students to be introduced to new job sectors that are not often discussed in school. My wish is for next year's event to have even more participants, challenges, and to have the possibility to grow in previously unforeseen ways."
The three Reverse Pitch Competition winning teams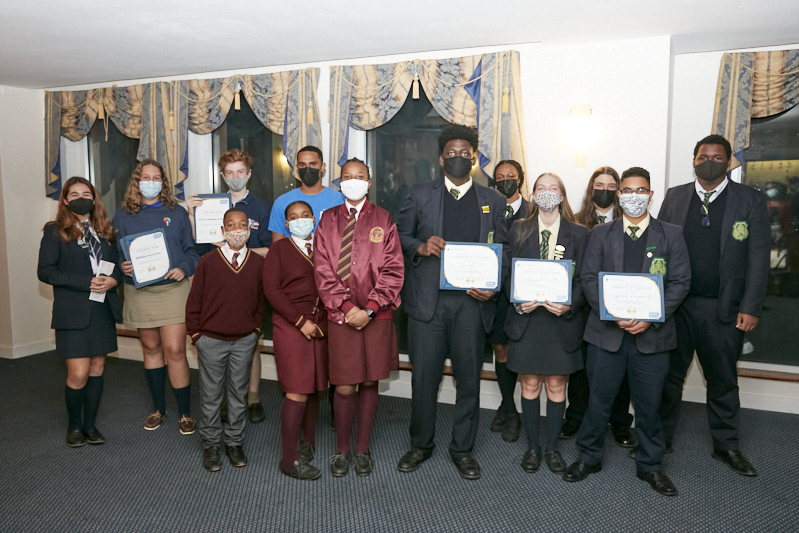 The spokesperson said, "Closing the evening, EDD Director Ray Jones congratulated the evening's celebrated innovators and thanked the attendees, both those in person and those who were watching the livestream.
"He also thanked the tech mentors Angelika Wilson, Anu Bhardwaj, Harry Matthie, Kerem Kolcuoglu, and Michael Simmons, the challengers Bermuda Press, Red Laser, and Gear & Gadget, the competition judges Marilyn Allers, Amy Peniston, and Jahde Eve and the evening's sponsors Belco, Circle, i3 the Innofund Innovation Incubator, Penrose Partners, SHEQONOMI, and Red Laser."

Read More About
Category: All, News, technology