The HMS Argyll — which recently assisting with the clean-up following Hurricane Gonzalo — has made another big drug bust, this time shooting out the engines of a boat carrying 215 kilos of cocaine.
The snipers took aim from a Lynx helicopter after the boat refused to stop, successfully disabling all three engines in seconds and bringing the smugglers to a halt.
This follows after the ship made a 200Kg [441lbs] cocaine seizure only a day after leaving Bermuda, and according to the Royal Navy, in total the crew have recovered nearly 1,900 kilos – or £77m [$121 million] – of cocaine in four highly charged seizures at sea.
Slideshow showing the HMS Argyll in Dockyard after Hurricane Gonzalo
First Sea Lord Admiral Sir George Zambellas said: "As the Defence Secretary has said previously, HMS Argyll has enjoyed phenomenal success in disrupting the drugs trade which blights the UK.
"This latest haul of drugs, following in the wake of Argyll's aid effort to Bermuda after Hurricane Gonzalo, rounds off a highly successful operational deployment to the region.
"Having enhanced the Royal Navy's authority in and around the Caribbean over the past six months, her Ship's Company have really earned their leave, and can reflect on a job well done."
Photo, courtesy of the UK Navy, of the seized cocaine: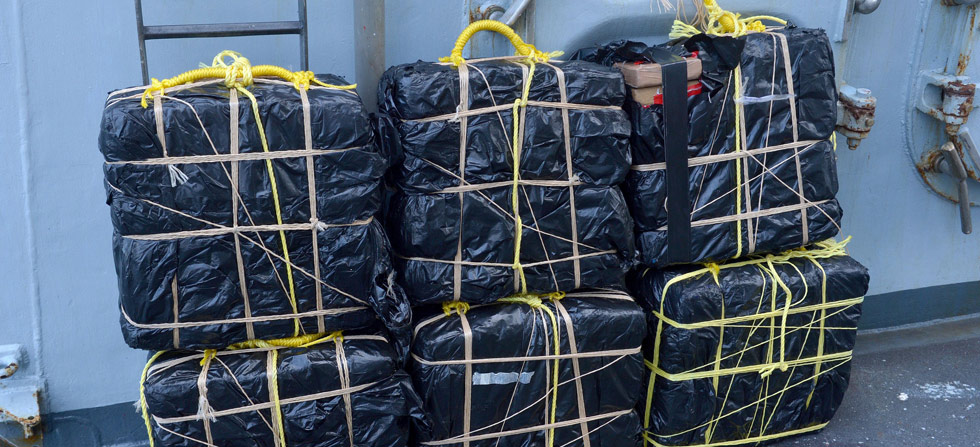 "I had to work hard to keep the helicopter in the right place for the sniper team and for us to successfully disable the go-fast was a great team effort," said Lieutenant Jonny Hamlyn RN, Pilot of the Lynx Helicopter.
HMS Argyll's Commanding Officer, Commander Paul Hammond, said: "I must acknowledge the skill of my flight crew and Royal Marine snipers but this drugs bust was made possible by the work of the entire ship's company.
"We have had a series of drugs busts and they have all been different; they have ranged from night time chases to disabling engines with sniper fire, however, they have all shown the effect and versatility that can be delivered by a Royal Navy warship."
Video courtesy of the UK Navy:
Read More About