A few weeks after leaving Bermuda, the Royal Navy's HMS Lancaster assisted in another drug bust, this time seizing 680kg worth of cocaine with an estimated street value of $150 million after sailors boarded a speedboat near Puerto Rico.
The UK Navy said the ship sped to the area and launched her Lynx helicopter and high-speed pursuit boat to intercept the 30ft vessel with three suspected smugglers on board.
As Lancaster approached, the men attempted to dispose of the evidence by throwing one bale of drugs overboard, but these were quickly recovered by the boat crew.
The drug smuggling boat being destroyed [Photo by Jay Allan, via Royal Navy]: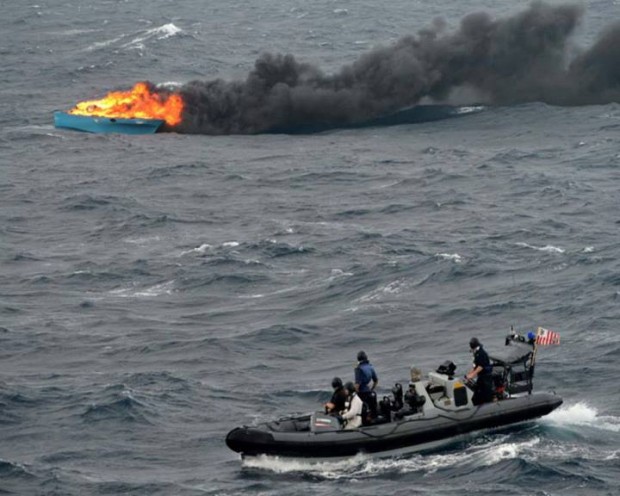 A total of 22 bales of pure cocaine were seized along with the three men on board who were then handed over to the Coast Guard Cutter Sapelo and then the authorities in Puerto Rico.
As is standard practice, the empty drugs boat was subsequently sunk by Royal Navy gunfire to prevent its use in future smuggling operations.
UK Secretary of State for Defence Philip Hammond said: "This extraordinary quantity of drugs has been stopped from reaching the streets by the swift actions of the Royal Navy, working closely with the US Coastguard.
"This is HMS Lancaster's second counter narcotics patrol in the Caribbean to tackle the drugs trade and the entire ship's company should be proud of this remarkable achievement.
Slideshow of the HMS Lancaster from when the ship was in Bermuda in June 2013:
HMS Lancaster is visiting British Overseas Territories as part of a six-month deployment in the Caribbean and North Atlantic. Bermuda was the first port of call on their deployment.
These patrols are part of Operation Martillo, a 15-nation collaborative effort to deny transnational criminal organisations air and maritime access to the littoral regions of Central America; and focus on putting a stop to the illegal movement of drugs from South America into the Caribbean and onwards to the UK.
Counter narcotic operations with the USA and other partner nations is one of a range of tasks HMS Lancaster is conducting across the Caribbean in support of British interests. Others include providing reassurance and security for British Overseas Territories and the provision of humanitarian aid and disaster relief during the core hurricane season.
Read More About