Princess Cruises has filed a motion to dismiss and compel arbitration in Bermuda after photographer Jean Luc Van Wyk filed legal action in California seeking damages for emotional distress after being told to photograph a murder scene onboard the Bermuda-registered Emerald Princess cruise ship.
Murder On Cruise Ship
The Emerald Princess left Seattle in July 2017 to embark on a seven-day cruise to Alaska, however the supposedly fun filled cruise ended in tragedy when Kristy Manzanares, 39, was found dead in her cruise ship cabin, having suffered severe wounds.
Her husband, Utah resident Kenneth Manzanares, has been charged with her murder, and has pleaded not guilty. He is scheduled to stand trial later this year, and is currently being held in a prison in Alaska.
The state of Alaska does not have capital punishment, however as the death occurred in U.S. waters it deemed U.S. federal case. Federal courts may legally seek the death penalty in all states, however prosecutors confirmed they are not seeking it should Mr Manzanares be convicted.
Inside Edition's news report from last year on the murder:
Photographer Sues
On December 20, 2017, Jean Luc Van Wyk filed his complaint in a California court for "damages alleging claims of Jones Act negligence, general maritime law negligence, maintenance and cure, intentional infliction of emotional distress, and negligent infliction of emotional distress."
The filing said "as a part of the Emerald Princess crew as an Assistant Photo Manager, Plaintiff was to take fun and happy photographs of passengers" and the "Defendants did not assign Plaintiff the duty of conducting crime scene investigations and never trained Plaintiff on how to conduct a crime scene investigation."
"As a member of the crew of the Emerald Princess, Plaintiff had no expectation that he would be required to photograph a murder scene."
According to the legal filing, Jean Luc Van Wyk "was directed by a member of the Vessel's security team of what to photograph and what not to photograph," with the filing alleging he took 100 photos, and providing a very explicit description of the murder scene.
The lawsuit alleges that since the incident "Plaintiff is suffering from Post Traumatic Stress Disorder" and has "recurrent nightmares" and "suffers severe mental anguish."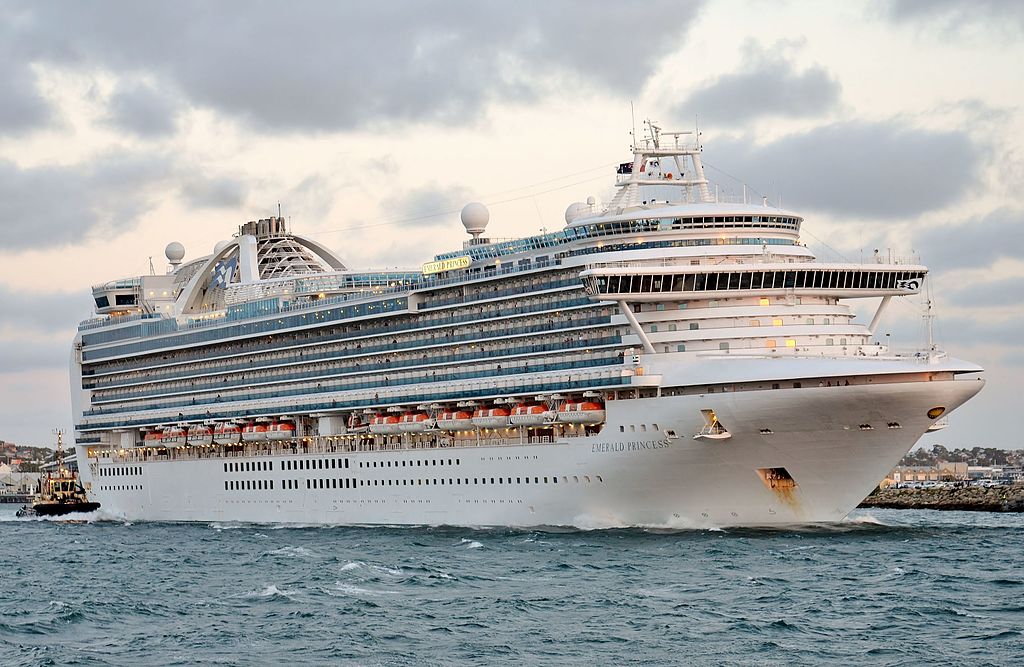 Princess Cruises Files Motion To Dismiss & Compel Arbitration In Bermuda
On January 19, 2017, Princess Cruises filed a motion to dismiss and to compel arbitration, alleging that the "employment contract requires Plaintiff arbitrate any and all claims or disputes between himself and Princess in Bermuda."
"Princess hereby files this Motion to Dismiss and Compel Arbitration and petitions the Court to enter an Order directing Plaintiff, Jean Luc Van Wyk, to proceed to arbitration in accordance with the terms of his signed and binding arbitration agreement with Princess," the filing said.
The filing notes that "international arbitration agreements are subject to the Convention on the Recognition and Enforcement of Foreign Arbitral Awards," which both the USA and Bermuda have implemented.
"The Convention provides that a court possessing jurisdiction under The Convention may direct arbitration be held in accordance with the agreement at any place therein provided for at least one party to the agreement is not a U.S. citizen," the filing states.
"Although applicable criteria only require that one party be a foreign citizen or entity, in this case neither party is a U.S. citizen," the filing stated, adding that the Plaintiff is a citizen of South Africa, and the "Princess is a Bermuda corporation and the Emerald Princess is a Bermuda flagged cruise ship operating in international trade."
The Princess' legal filing also alleges the "Plaintiff violated the Subject Employment Agreement by filing the instant action in a Federal District Court rather than submitting his claims to arbitration in Bermuda. "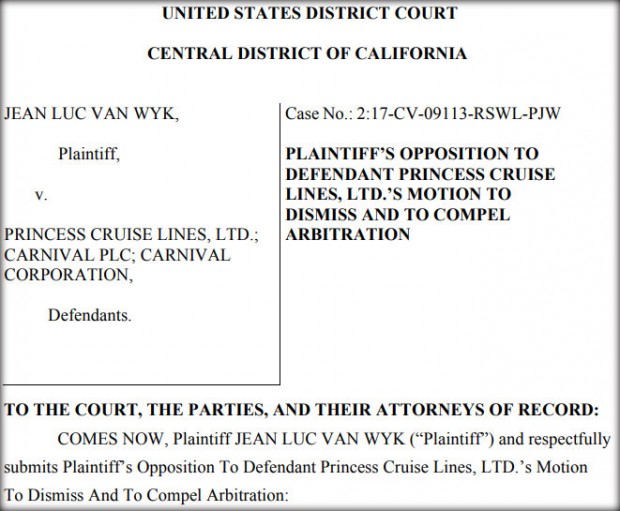 Plaintiff Files Opposition To Princess Motion To Dismiss & Compel Arbitration:
On January 30, 2018, Jean Luc Van Wyk filed in opposition to the motion from Princess, with the filing saying the "motion should be denied as the Parties never intended the arbitration agreement to cover" an incident of this nature.
"Should the Court be inclined to grant Defendant Princess's motion, arbitration should be ordered to proceed within the Central District of California as Bermuda does not recognize a claim for maintenance and cure," the legal filing stated.
"Plaintiff never agreed to submit to arbitration in lieu of a seaman's lawsuit for being ordered to photograph" a murder scene, the filing states. "Defendant Princess would never have that intent as well because it operates a pleasure cruise ship business, not a murder cruise ship.
"It is impossible for the subject arbitration agreement to apply here as both Parties never intended nor envisioned that it would cover this grotesque situation," the filing stated.
The California court has not yet ruled on the motion.
Read More About