[Updated with video] The protection and promotion of Bermuda's shipwreck heritage is the mission of a new non-profit called Lili Bermuda Foundation, launched today [Dec 11] by the Bermuda Perfumery, with the foundation set to sponsor 50 young Bermudians who have a desire to become Open Water PADI certified.
A portion of sales from the recently launched Mary Celestia fragrance – a scent inspired by the Bermuda shipwreck of the same name – will fund the foundation.
"The foundation's first charitable objective is to sponsor 50 young Bermudians who have a desire to become Open Water PADI certified," said Isabelle Ramsay-Brackstone, owner of The Bermuda Perfumery.
"Our goal is to inspire young Bermudians to explore and learn more about our rich shipwreck heritage and to become future Bermuda ambassadors when they go overseas to pursue their studies and other interests.
"My own 13 year-old daughter, Marie-Sophie, is a young diving enthusiast and I hope we can find 50 young people who will come to love underwater exploration as much as she does. "
The Lili Bermuda Foundation will cover fully or partially the cost of PADI certification depending on the need and interest of each young person who applies. PADI is the Professional Association of Diving Instructors and is the largest recreation diving membership organization in the world.
Dive Bermuda, which conducts PADI certifications and dive tours of the Mary Celestia wreck off South Shore, supports the work of the Lili Bermuda Foundation.
"This is an inspired idea and we commend The Bermuda Perfumery for encouraging Bermuda's youth to explore the incredibly exciting undersea," said Mark Diel of Dive Bermuda.
"Dive Bermuda has recently finished its very first course with students from the Bermuda High School. This program will work superbly in tandem with ours and we will be offering the certification courses for kids at a significant discount to further assist the Lili Bermuda Foundation reach its full potential."
The foundation will seek support from the entire local diving community to assist in its objective of protecting and promoting Bermuda's shipwreck heritage.Lili Bermuda Foundation PADI certification applications are available from the Lili Bermuda store in Hamilton and at The Bermuda Perfumery in St. George. Children between the ages of 10 and 18 are encouraged to apply.
Marie-Sophie Brackstone [right], 13, prepares to dive shipwrecks with her friend Nicole Nixon.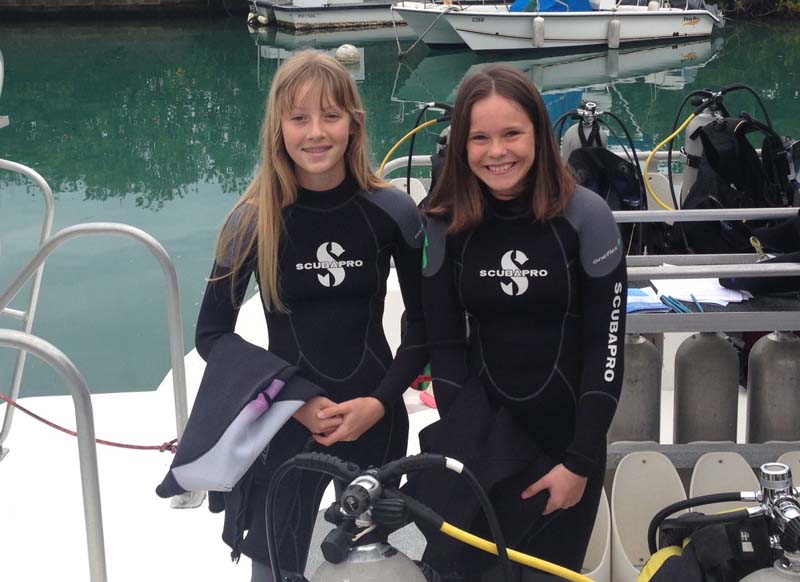 Dr. Philippe Rouja, Bermuda's Custodian of Historic Wrecks, said: "The Department of Conservation Services is committed to protecting Bermuda's shipwreck heritage, but that is only one part of the mission.
"We must also excite children about the stories that exist on our ocean floor so that they are similarly conservation-minded. We believe the Lili Bermuda Foundation is on the right track with its new program and we're glad to support them in finding young candidates to be certified."
The Mary Celestia fragrance is a replica of a 19th Century perfume recently uncovered in the Mary Celestia shipwreck. The new scent was launched in New York City on September 23rd and went on sale, as a limited edition of 1,864 bottles, on October 1st, 2014.
The number of bottles represents the year the Mary Celestia sank off Bermuda while on its way to Charleston, South Carolina carrying a hidden cargo that included smuggled perfume from London, U.K.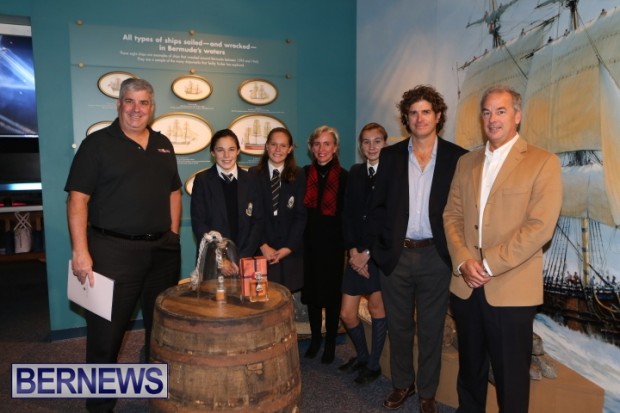 Mrs. Ramsay-Brackstone said: "We have literally woven Bermuda heritage into the packaging of the fragrance and it makes for an exceptional gift. From the Bermuda Monetary Authority medal on the neck of the bottle to the Bermuda cedar boxes handmade in St. George by Master Carpenter Mickey Foggo, this is an authentic Bermuda experience. We've been saying, 'For the person on your Christmas list who has everything, give history'."
The original Mary Celestia fragrance recovered from the shipwreck will be on display tomorrow, Friday, December 12th, at Lili Bermuda on Front Street from 9:00am – 9:00pm, which includes Friday night shopping. Shoppers are encouraged to come by to experience the ancient fragrance and compare it with the exciting new re-creation.
To celebrate the foundation's launch, in-store shoppers can have their Mary Celestia gift sent to a loved one overseas and Lili Bermuda will express ship it worldwide in time for Christmas at no cost [Friday only].
Read More About