The Travel has featured Bermuda's shipwrecks in an article titled "10 Deep Dives Into Bermuda's Most Haunted Shipwrecks."
The Travel website said, "The Bermuda Triangle is chock-full of unexplained phenomena. Whether it's Halloween or any time of year, spooks are here to steer sheer fear in its mythical sea of sailor's tears. Better yet, scares aren't just limited to land; scuba divers and sub-sea explorers can shiver their timbers below the surface in the dark depths of Bermuda — home to some of the world's most haunted shipwrecks and a prolific history of mystery.
A scuba diver posing for a photo inside the Hermes wreck in Bermuda [photo courtesy of Dive Bermuda]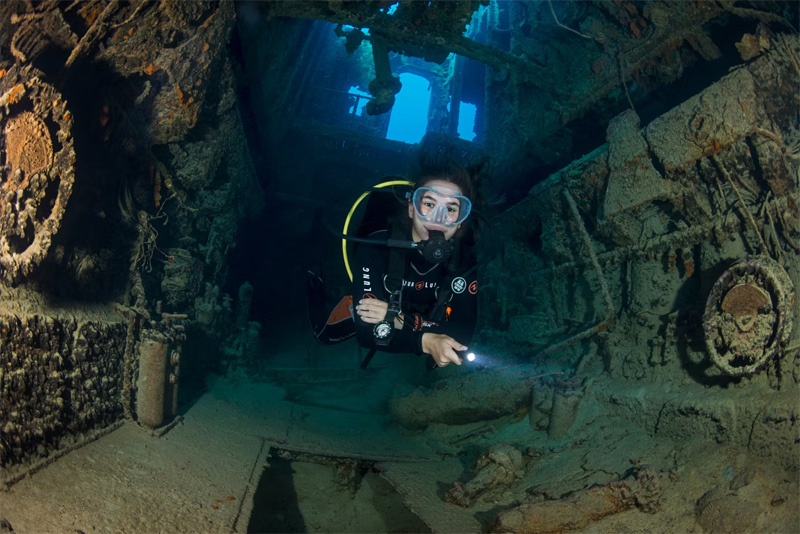 "Situated in the North Atlantic Ocean and surrounded by fringing coral reefs, Bermuda already offers incredible diving, with its rich biodiversity and dive sites brimming with stunning aquatic species. However, for some, the curious cravings for the country's uncanny prove far too alluring — and, indeed, there's no lack of eerie allure beneath Bermuda's waters.
"From mysterious disappearances and real-life marine monsters to hundreds of shipwrecks and unfortunate planes — many of which sank but never found — these are the hair-raising ingredients for a daunting diving destination of doom, with many a scuba enthusiast traversing the world to descend to Bermuda's dark depths dotted with ghoulish maritime graveyards.
"Bermuda facts and figures claim its ocean boasts around 300 sunken ships scattered around its shallow sea beds, some even dating as far back as the 1600s. With droves of ghastly shipwrecks to explore, the relentless void that is the Bermuda Triangle has been at work for centuries, dragging fateful vessels to their demise at the bottom of the sea. Today, a treasure trove of spectral ships awaits in these waters for scuba divers to encounter — as do nightmares for some."
You can read the full story here on The Travel.
Read More About
Category: All