[Updated] There was heavy police presence in the Mount Hill, Pembroke area this morning [Dec 11] with armed officers visible, and the police have confirmed they conducted two search warrants and arrested three people for "firearm related offences."
Acting Assistant Commissioner of Police James Howard said, "People have been providing certain information to the Bermuda Police Service, and we are analyzing every bit of information we get and based on the information, the officers have executed search warrants in this particular neighbourhood."
"We've conducted two search warrants at two residences and we have arrested three people for firearm related offences at the present time and that's all I'm prepared to say at this time."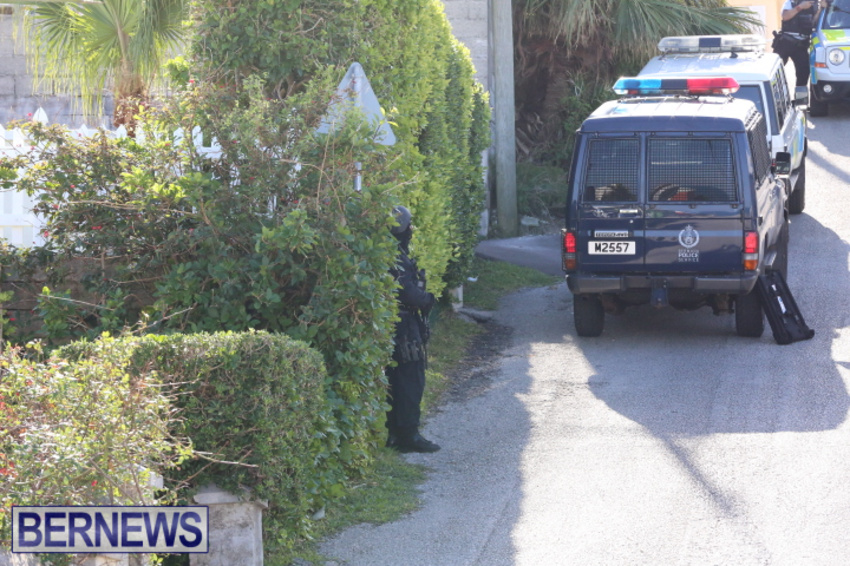 Update 12.15pm: When asked if the individual who they were looking for previously was in custody, Mr Howard said, "We do not have him in custody as of yet.
"I'm sure he is aware, and as I said before, him and other persons know that the police are looking for them in relation to certain firearm incidents.
"They have an opportunity to come forward and make contact with myself or other officers. Again, save your family, save your friends the agony of officers coming morning, noon, or night executing warrants at their residences."
When asked if today's execution of warrants was related to Sunday night, Mr Howard said, "As I said before, we've received information in relation to a lot of different incidents that have taken place throughout the island, and we're acting on each of them.
"So at this time, I'm not prepared to say which incident this particular execution of warrants is in relation to."
When asked how the officer who was fired at is doing, Mr Howard said, "Mr. Wright, the acting Commissioner of Police, stated before he's very resolute, he's a good officer. We're in constant contact with him and he's doing fine."
Speaking about this morning's actions, Mr Howard said, "In relation to this particular neighbourhood, I recognize that it is an inconvenience and I will always let the public know and persons in the neighbourhood know that we apologize for the inconvenience.
"I've actually met with many of the neighbours here and they're happy to see us, they're happy to see that we're doing proactive stuff, and they've ben patient with us.
And I just asked the rest of Bermuda, if we end up coming to your neighbourhood, be patient with us."
When asked how long this morning's operation took, Mr Howard replied "A couple hours."
Update 6.02pm: A police spokesperson said, "Various police units including armed officers conducted search warrants at residences in the Mount Hill, Pembroke area Thursday morning as enquiries continue regarding the murder of Prince Edness and other recent confirmed firearm incidents.
"Three persons have been taken into police custody for firearm related offences following this morning's search. However, a second suspect is still being sought in connection with Sunday night's murder.
"We appreciate the patience and understanding of those residents who were temporarily inconvenienced."
Read More About