Historical Heartbeats, the Bermuda Historical Society [BHS], and the Bermuda Library joined together on Saturday [Dec 13] to celebrate the 200th anniversary of William Perot's moving into the house Par-la-Ville. The move took place on December 14, 1814.
BHS member Lyn Vaughan was determined that this milestone should not pass uncelebrated, and she and her committee worked hard all year to produce new postcards and brochures, and to arrange the programme of events which took place.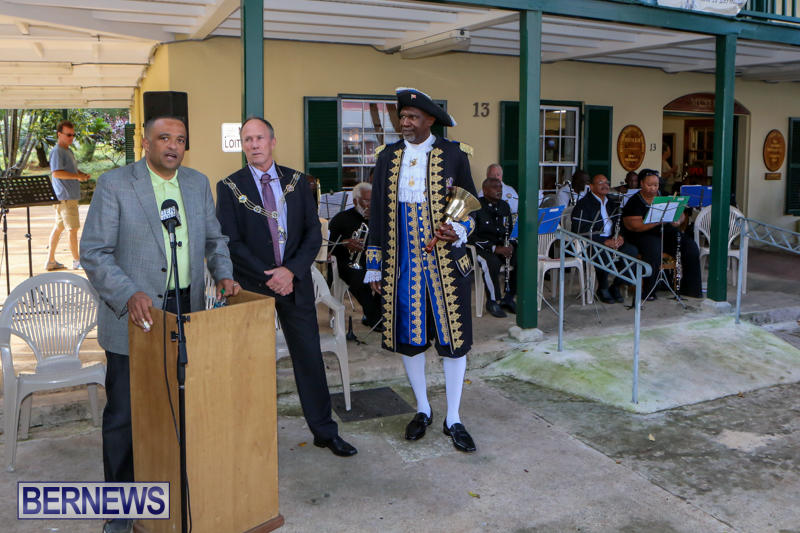 The morning started off with a performance of Christmas songs by the Mount St Agnes Primary School Choir, followed by a variety of songs written and performed by Bermuda Folk Club's Val Sherwood.
Then came the North Village Band, who entertained everyone who had gathered outside the Historical Museum entrance to enjoy the music and the refreshments which were offered.
Graeme Outerbridge, the Mayor of Hamilton, gave a speech recapping the history of the Perot family and their house, and Minister of Culture Wayne Scott urged everyone to look around the History Museum and to enjoy Bermuda's Heritage.
On hand were the Town Crier and John Cox, prolific writer and historian, the sale of whose books helps support the Bermuda Historical Museum.
The Bermuda Historical Society will be offering a $5000 award to a graduate of Bermuda history in 2015. Mrs Shirley Pearman chairs a small BHS sub committee which will make the selection .
Click to enlarge photos:
Read More About