Premier Michael Dunkley and Clarien Bank CEO Ian Truran welcomed Clarien Bank volunteers to Meals on Wheels for a volunteer day to support the Clarien Holiday GiveBack programme on Friday [Dec 12].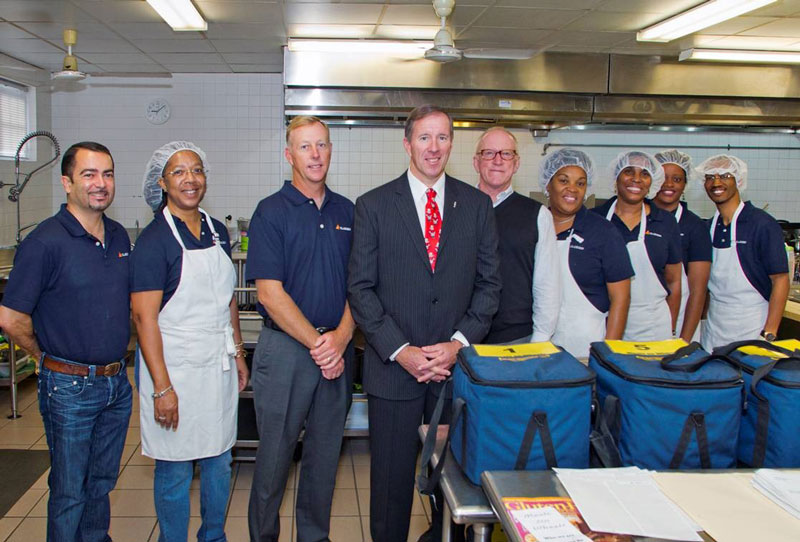 Ian Truran, CEO Clarien Bank, previously said, "We are proud to launch the 2014 Clarien Holiday GiveBack programme, continuing our commitment to partner with charitable organisations such as Meals on Wheels to fulfill their mission of supporting those in need."
"We are a resilient nation, committed to supporting one another through challenging times and the Clarien Holiday GiveBack programme is an opportunity for us to again show our collective strength by donating to an extraordinary cause."
"More than $11,000 was donated to Meals on Wheels during the 2013 programme. Clarien hopes to again encourage the community's generosity in the season of giving to show their support for those who – for reasons of age, disability or health – depend on Meals on Wheels to deliver a nourishing cooked meal to their home.
"We understand the magnitude of support that Meals on Wheels provides to our community. That's why the Clarien team is committed to providing more than donations to the organization – members of the staff will again volunteer to assist with meal preparation and delivery."
Joe Gibbons, Director/Chairman of Meals on Wheels, previously commented: "The support of Clarien Bank has been invaluable, and we are again appreciative of the donations and volunteerism provided through the Holiday GiveBack Programme. The GiveBack programme allows us to provide vital resources during the holiday season, when we typically see an increased need for support."
"On behalf of Meals on Wheels, I would like to thank Clarien for initiating a programme that encourages the entire community to collaboratively support our efforts – their partnership is critical to help support those who need it most."
How to Help
The Clarien Foundation will match all contributions up to a capped amount and all funds will be donated directly to Meals on Wheels. Donations may be made to Meals On Wheels via the Clarien GiveBack account as follows:
Clarien No Wait Deposit Box
Use Clarien GiveBack No Wait Deposit envelopes, available at either branch location.
Clarien Teller Donations
Donations may also be made via Clarien Tellers at either branch location. Ask the teller to make a donation to Meals On Wheels into the Clarien GiveBack account.
Branch Locations
Clarien Main Branch – 19 Reid Street
Clarien Paget Plaza – 161 South Road
Online Donations
Transfer funds via Clarien eBanking on www.clarienbank.com to the Clarien GiveBack account.
Contact the Clarien Service Centre at 296-6969 for assistance.
Gibbons Company Charity Shopping Day
Friday, December 5
Donate a minimum of $5 and receive 20% off regularly priced merchandise.
All donations for the Clarien Holiday GiveBack Programme must be received by 4pm on Wednesday, December 31, 2014.
For additional information, please visit clarienbank.com/giveback, email giveback@clarienback.com or call 296.6969.
Read More About