Clarien Bank's annual Holiday GiveBack Campaign raised more than $10,000 for Meals on Wheels. Clarien Bank CEO Ian Truran today [Jan 21] presented Allison Garland of Meals on Wheels, with a cheque for $10,605.50. Since 2010, the annual campaign has donated over $70,000 to the Meals on Wheels programme.
The money was raised through donations by Clarien employees and customers over the Christmas holiday season, and from donations made during Gibbons Company's "Shop & Give Thursday" on December 17.
All donations were matched by the Clarien Foundation. Clarien staff members also volunteered to help prepare and deliver meals as part of the campaign.
Clarien's Ian Truran, Allison Garland of Meals on Wheels, and Clarien's Michael DeCouto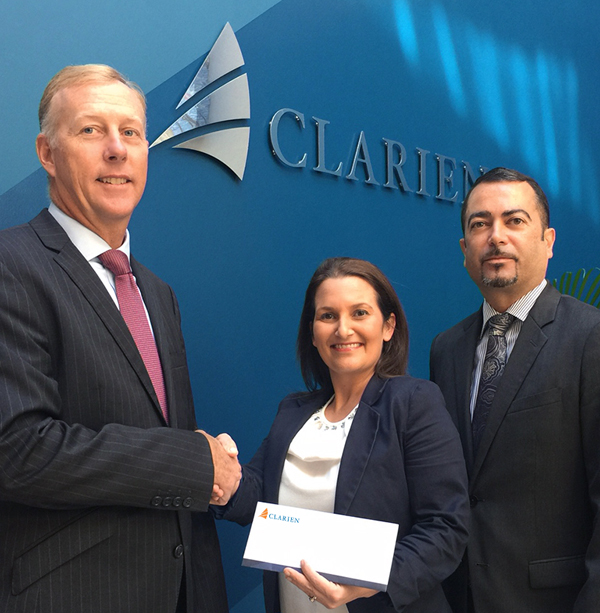 Mr. Truran said: "It is a privilege for us to be associated with Meals on Wheels and we are delighted to be able to make another significant contribution to support an organisation that provides such a unique and important service for our community."
Ms. Garland commented: "We'd like to thank Clarien once again for their commitment and generous support of Meals on Wheels as well as everyone who donated to the GiveBack Campaign. Every dollar raised goes towards enabling us to maintain this vital service to the community."
For 40 years, Meals on Wheels has been delivering freshly-cooked, nourishing lunches islandwide to those unable to prepare a proper meal for themselves, such the sick, elderly and disabled.
It presently delivers 180-200 lunches four days a week as well as about additional 80 frozen meal replacements for Thursdays and weekends. The regular deliveries also provide an important and reassuring daytime check on the welfare of recipients.
Read More About