The Family Centre, an accredited nonprofit dedicated to improving families' lives in Bermuda, has announced they "will honour its beloved late founder Martha Dismont, by dedicating the 2023 Annual Cup Match Tag Day to her memory."
A spokesperson said, "Sponsored once again by Clarien Bank, the Tag Day will run between now and Wednesday, August 2, with funds raised from every Cup Match ribbon going to support Family Centre's vital work in the Bermuda community. Founded by Martha Dismont more than 30 years ago, the charity has focused on providing freely accessible mental health counselling services to children, teens, and their families, as well as community outreach programmes and advocacy initiatives, all with the aim of fostering healing, wellness, and empowerment to improve the lives of families in Bermuda."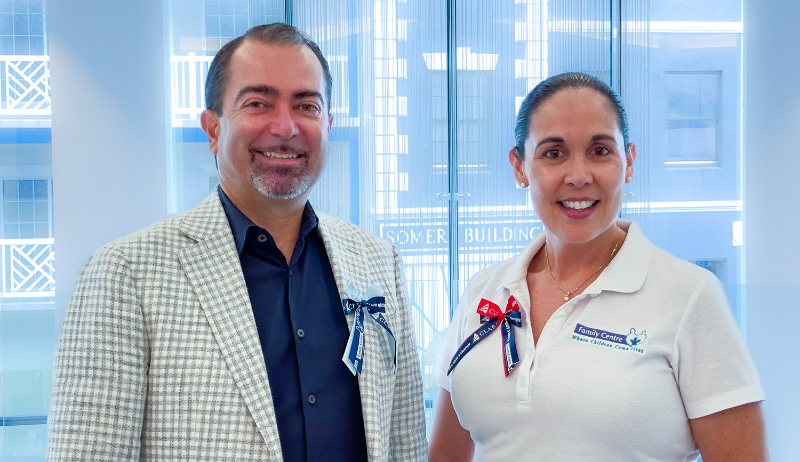 Family Centre's Executive Director Sandy De Silva said: "Martha Dismont was a visionary leader with a humble and passionate spirit who was driven to help others. She saw opportunities instead of barriers and her unapologetic courage to stand up for what is right resulted in receiving her well-deserved local and global recognition. Martha's perspective was to look for what is possible, bringing inspiration to all those around her. She had the unique gift of simultaneously inspiring both hearts and minds moving people towards healing and communities to social advancement. There is comfort in knowing that her life's work and commitment to our community will be a legacy and it is Family Centre's privilege to carry on in her honour."
"While we at Family Centre are deeply saddened by Martha's passing, we are inspired by her life and legacy. Martha loved Cup Match Tag Day; it was her favourite time of year. She looked forward to spreading Cup Match excitement across the island while raising critical funds to help children and families. We are dedicating our annual Cup Match Tag Day to Martha's memory. Wear your Cup Match ribbons proudly, and give generously on August 2nd, knowing that your support is honouring Martha's legacy and making a difference in a child's life."
The spokesperson said, "Family Centre's Cup Match Tag Day started in 1995. Brenda J. Richardson, one of Family Centre's early board members, came up with the idea of putting ribbons together in Cup Match colours and using them to raise funds for The Family Learning Centre, as the charity was originally called. Brenda Richardson and Mary (Harvey) Mason, who was visiting Bermuda from the U.S., sat up all night chatting and putting together hundreds of Somerset and St. George's themed ribbons. Brenda presented the ribbons and her fundraising idea to Martha and the Board, and the rest is history, shared Dr De Silva.
"Family Centre's wish is to make this year's Cup Match Tag Day the best one ever, in memory of their Founder Martha Dismont. Volunteers are still needed at our Tagging Stations across the island on Wednesday, August 2 from 8AM to 8PM. Please call Family Centre at 232-1116 or visit www.tfc.bm/cupmatch to sign up now.
"The public can support the sale of Family Centre Cup Match Ribbons by visiting Family Centre's website at www.tfc.bm/cupmatch or placing an order via Sargasso or Pronto. Supporters can also call Family Centre at 232-1116 or visit participating retailers to secure Cup Match ribbons while supplies last."
"Clarien was blessed to have a personal and professional relationship with Martha Dismont, as part of the work we did with the Family Centre over the past few years," said Michael DeCouto, Clarien's EVP, Chief Digital & Marketing Officer. "We are confident Martha's legacy will continue to live on through this annual Tag Day and the vital work the Family Centre continues to do. This year's fundraiser will be particularly special as it is not just a celebration of Martha's life, but a testament to the impact she had and the many lives she touched. Let us come together as a community and honour Martha's memory by raising funds to continue making a difference in the lives of families in our community."
The spokesperson said, "On Wednesday, August 2, Clarien will also be hosting free Cup Match Festivities outside of its Point House, Hamilton location from 11am – 3pm. The Bank encourages the public to come out and show their team spirit by wearing their favourite Cup Match colours. In addition, Clarien clients will be treated to a variety of free sweets provided by Duch Pops and Tuck Shop; there will also be a special performance by the H & H Gombeys at 2:30pm. On hand for the afternoon will be Patrina O'Connor, the event MC, with DJ Korie Minors playing music to get us all into the Cup Match holiday spirit.
"There will also be memory board stationed outside of Clarien's Point House location where members of the public can leave their messages of condolence. For more information on the Family Centre Cup Match Tag Day or to place your ribbon orders, visit www.tfc.bm/cupmatch or contact 232-1116."

For extensive coverage of Cup Match spanning over a decade, visit our website BernewsCupMatch.com, the island's most comprehensive resource on the Cup Match holiday.

Read More About