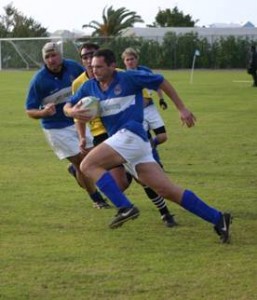 The 9th Annual Paul Marsden Memorial Rugby game will be taking place this Sunday 18th January at 3:30pm at National Sports Complex north field.
Paul Marsden was a Police Constable 2206 who tragically died on the rugby field while playing rugby for the Bermuda Police Rugby Club against Mariners RFC on 22nd January 2006.
A spokesperson said, "Paul was an extremely likeable person who was well respected and admired as a police officer, rugby player and friend .
"Paul's sudden death hit both the Bermuda Police Service and the tight knit rugby community hard, as evidenced by the overwhelming attendance to his funeral service which had full Police honors. His death was attributed to a unknown pre-existing heart condition.
"Former Rugby Youth Coach Devrae Noel-Simmons advocated using this tragic event to raise heart health awareness.
"As such the Bermuda Police Rugby Club continues to honor these two men by using this annual event to support the Bermuda Heart Foundation [BHF] in an effort to raise heart health awareness.
"The Marsden Noel-Simmons families are extremely excited about this partnership as it represents a positive development coming out of these tragic events. The BHF will be running a family support day in conjunction with the rugby games being played at National Sports Complex.
"Refreshments, information pamphlets, family jump rope activities for children will be pitch side starting at 2 pm. The Paul Marsden Trophy will be presented by BHF executive director Sionna Barton. We remind all that February is the BHF's month for raising Heart Health Awareness.
"The Bermuda Police Rugby Section cordially invites all members of public to come support the Bermuda Heart Foundation and the Bermuda Police Rugby club as they take on the Mariners Rugby Club in the efforts to retain the Marsden trophy and celebrate the life of a police colleague. There will be refreshments put on at the PRC Prospect afterwards.
The full rugby schedule for Saturday 17th January is as follows:
Ladies 12:30 Kick off- Renegades RFC V Teachers RFC
Ladies 13:15 Kick off- Police RFC V Mariners RFC
Mens 14:00 Kick off- Renegades RFC V Teachers RFC
Mens 15:30 Kick off- Police RFC V Mariners RFC
Update 3.50pm: The quote from rugby spokesperson said that Mr. Noel-Simmons passed away from a heart condition, which his wife states is not factual, so that has been removed.
Read More About