A video released by Ben Ainslie Racing provides a look at the America's Cup team's early experiences in Bermuda, highlighting their first training sessions on the island as they aim to be "the first to fly on Bermudian waters."
In the video — which includes many shots of Dockyard — Sir Ben says, "This is our first training camp in the America's Cup venue, Bermuda. It's been great for the team to get out on the water and learn the nuances of the venue – the wind direction, the wave states."
Sir Ben also recently paid Premier Michael Dunkley a visit in the Cabinet Office.
Minister Crockwell, Premier Dunkley, Sir Ben, Minister Gordon-Pamplin and Minister Gibbons: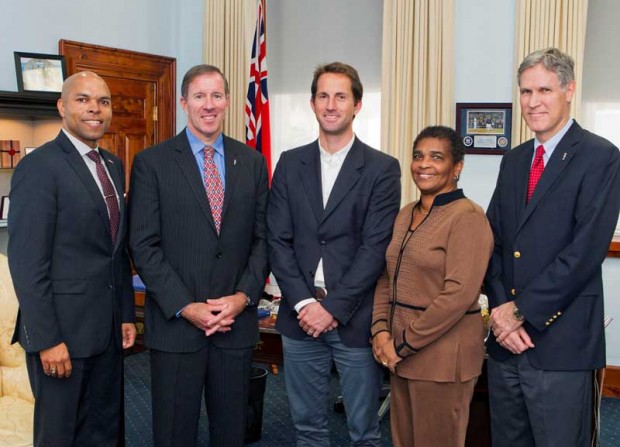 Of the island and its people, Sir Ben says in the video, "Bermuda is just the most beautiful island. The people are so friendly, so welcoming; they're extremely excited about having the America's Cup here."
The video's description says, "Ben Ainslie Racing were the first America's Cup team both on – and under – the race course waters of the 35th America's Cup last week, when the team conducted an initial training camp in Bermuda. Watch highlights from the team's first training camp."
Regarding the Ainslie Team's early training in Bermuda, the America's Cup website said, "Ben Ainslie is leading his team on to the waters of the America's Cup race course in Bermuda this week. The squad is training with two foiling catamarans – the small, light, Nacra 20s – on the Great Sound.
"Ainslie says the training session is important for two reasons – learning about conditions on the race course area of the America's Cup; and upskilling the sailing team on foiling catamarans.
"Ainslie has raced on the Great Sound before, but it's been nearly 20 years, during a youth world championship event. He says racing on the tight confines of the race course area will be a challenge for all of the teams."

Read More About