Huge crowds gathered for meeting called by the Bermuda Trade Union Congress [BTUC] yesterday [Jan 26], with the dispute centered around furlough days for government workers.
The meeting was called following the a letter being sent from the Ministry of Finance to BTUC 1st Vice President Chris Furbert on Friday [Jan 23] in which the government asked the BTUC to "reconsider your position with regard to continuation of the furlough."
The meeting, which began at 10.00am and lead to a march on Cabinet, saw no resolution reached; while the morning's activities were to be followed by a meeting between the BTUC and the government at 3.00pm, government officials still had not arrived to the meeting by 5.00pm.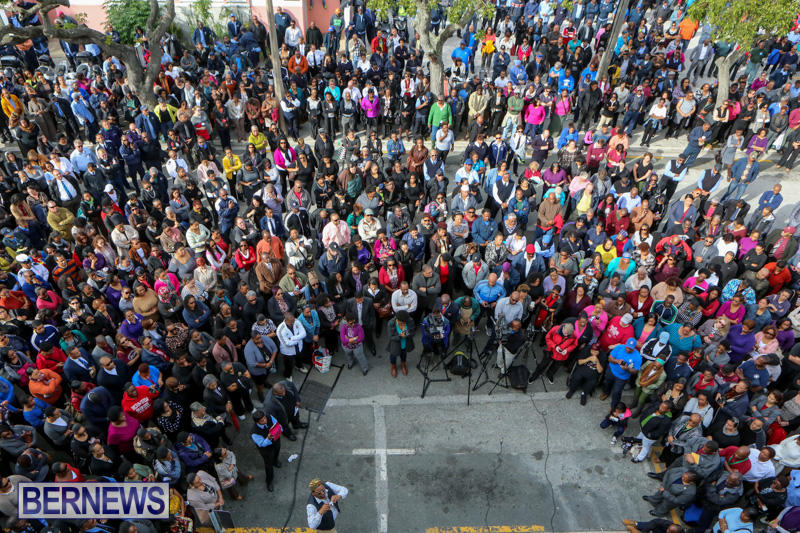 Premier Michael Dunkley later apologized to the BTUC for the circumstances surrounding the delayed meeting, while the BTUC called for another meeting this morning [Jan 27] at 9.00am, leading to the closure of all public schools, with bus and ferry services suspended as of 8.30am.
In response to the planned second membership meeting, Premier Dunkley "urged public sector workers to allow the Government negotiating team and the union leadership to meet before participating in another general membership meeting."
For our live blog on the Govt/Union events click here, and for all our coverage of the matter click here.
A quick look at the massive crowds who gathered for the BTUC meeting on Monday
14-minute video of Union leaders and the Premier addressing the crowds at Cabinet Grounds on Monday
Full 40 minute video of Union leaders addressing the crowd at Union Square on Monday
BPSU President Jason Hayward explaining why the BTUC called for another meeting today
The original press conference on Friday to call the first BTUC meeting
Read More About