[Written by Juanae Baker]
Despite its name, The New Universal Barber Shop, has been a fixture in the Backatawn area for decades. Located at number 40 Court Street, this barber shop has been in existence for over fifty years. Originally known as Stines' Barber Shop, it was purchased in 1964 by Willard 'Bo' Burch and Coleman Robinson after it's previous owner, Irving Stines fell ill.
In the early 1960's both Mr. Burch and Mr. Robinson were employed on the American Base in St.David's. Times were rough and Mr. Robinson had just been laid off. When the opportunity to own their own business presented itself they pooled their resources and purchased the Barber Shop.
Mr. Burch recalls trying to choose a name for the shop with his partner. He chuckles as he remembers Mr. Robinsons' suggestion of "The Prince Charles Barber Shop". Needless to say after consideration they decided on the name The Universal Barber Shop, promoting inclusiveness during a time when Bermuda was beginning to adapt to a racially integrated community. Mr. Burch and Mr. Robinson remained partners in the business until the early 1980's when Mr. Robinson decided to pursue a career in construction.
Mr Burch standing in the doorway of Universal Barber Shop, which he purchased 50 years ago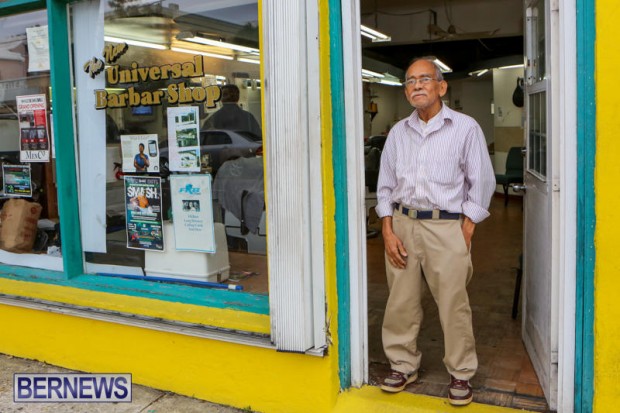 The Universal Barber Shop has had a reputation as one of the best barber shops on the island. When it opened its décor and equipment was modern during a time when most barber shops were very simple.
But Mr. Burch emphasizes that a good quality of service is what ensures a business's prosperity. "You can have a top grade barber shop but without good service there is no success." His first priority has always been to cater to his customer. As a result the shop has enjoyed a good clientle. Some of the loyal patrons of the shop include former politicians such as The Hon. Quinton Edness and former Premier Sir John Swan.
With such a fundamental commitment to excellence it is no surprise that The Universal Barber Shop is still going strong, changing its name in recent years to The New Universal Barber Shop. Today the shop has 5 barbers – Bo Burch, who at the age of ninety still cuts hair part time or by request, Colin, James, "King" David and Pastor Dwayne.
They average between ten and fifteen heads per barber each day and note that Friday's and Saturday's are usually their busiest days of the week. Having seen a reduction in the amount of business since the recession began a few years ago, the barbers are grateful to their loyal clients who continue to patronize them.
Pastor Dwayne, who is the pastor at Church of God of Prophecy on Curving Avenue, has been at the establishment for fifteen years, the longest of the four barbers. Despite this, he is eager to note that he holds no seniority. Each barber is equal to the other, allowing them to work well together and to create a friendly, welcoming atmosphere.
Mr Burch, who at 90-years-old, still works at his business: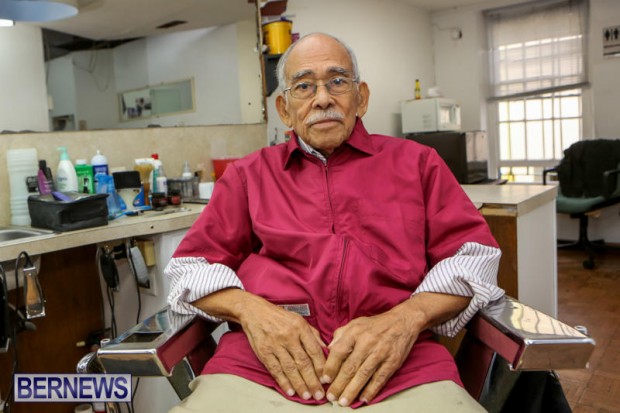 When asked about the infamous "barber shop talk" they all laughed and nodded their head in affirmation. They talk about everything from politics to marriage, sex and money. The only rule they have is that the conversations stay positive and each customer leaves feeling uplifted. James, a barber at this location for the last twelve years, explains that "all good barbers are also counselors."
Each barber prides himself on offering more than a haircut, it is a therapeutic experience. Customers from all different backgrounds walk through their doors and it is their duty to be able to give them more than just a "clip". Their mantra is to serve the people to very best of their natural ability.
With flexible opening hours, the shop stays open until there is no one left to service. You can pop in for a walk-in or ensure that your hair is cut on time by making an appointment. Any way that they can serve you they will.
Over the years there have been several barber shops in the area that have opened and subsequently closed, but The New Universal Barbershop has remained, a true testament to the quality of service they provide. The vision of their owner has been proudly preserved and will continue to carry on for years to come.
Read More About