The New Universal Barber Shop has been a fixture in the Backatawn area for more than 50 years at its location on Court Street, with the business' history beginning anew when it was purchased by Willard 'Bo' Burch and Coleman Robinson from its previous owner, Irving Stines, in 1964.
Five decades and four children later, Mr. Burch, who is 90-years-old, continues to personally service his clientele, even as he reflects on the long history of his life's work, recalling servicing "people of all walks of life, from Somerset to St. George's."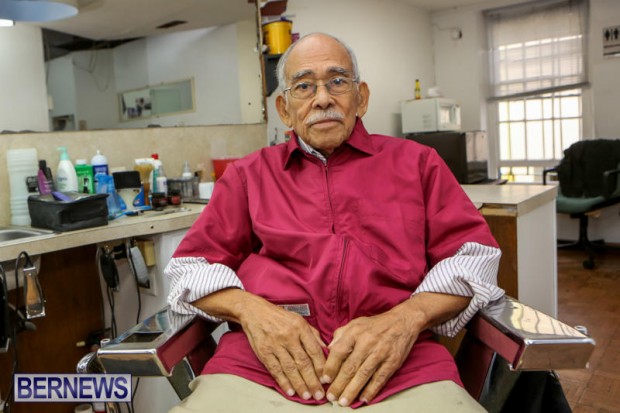 Mr. Burch said, "I started about 60 years ago. The shop was originally started in 1960. It was owned by Stines, Irving Stines. At that time, I worked on the base – I worked there for 16 years.
"I came up here, took over the barbershop, Coleman Robinson and myself. Stines sold the barbershop to us and I've been here ever since 1964.
"It's changed a lot, the style of haircuts, quite a lot; there are a lot of short haircuts today. In the 60s and 70s there were haircuts like afros, long haircuts, but today it's a lot of short cuts.
"I've seen various people of all walks of life, from Somerset to St. George's. We've had Parliamentarians. We've had good clientele, that's one of the things that has kept the business going."
Continuing to recall his history on the island, Mr. Burch said, "I saw when they had the riots, two riots, out here. I had to close down the barbershop completely that particular day – in fact, it was two riots on this street.
Asked to draw on his years of experience and offer his personal insight on the state of the Bermuda economy, Mr. Burch said, "I would say that this boat thing coming here, that's going to give Bermuda a boost, but that's only for a certain amount of time.
"That's going to happen, building up from now up until 2017, but after that, who knows," added Mr. Burch. "I don't think anybody knows what's going to happen, but we would all like to see the economy boosted up, because it helps everybody."
Read More About