[Written by Juanae Baker] Located at 46 Court Street, G&M Beauty and Barber [G&M] is one of Bermuda's longest serving salons. Mrs. Merlin Burt, founder and owner, has been running the business for over forty years.
Mrs. Burt, originally from Jamaica, had dreamed of a career as a beautician since the age of twelve. She attended the Bruno School of Hair and Design in Toronto for training before beginning her career as a stylist.
In 1972 Mrs. Burt came to Bermuda for a vacation and met her soon to be husband, Gerald Burt. The couple was married a year later and Mrs. Burt quickly adjusted to making Bermuda her home.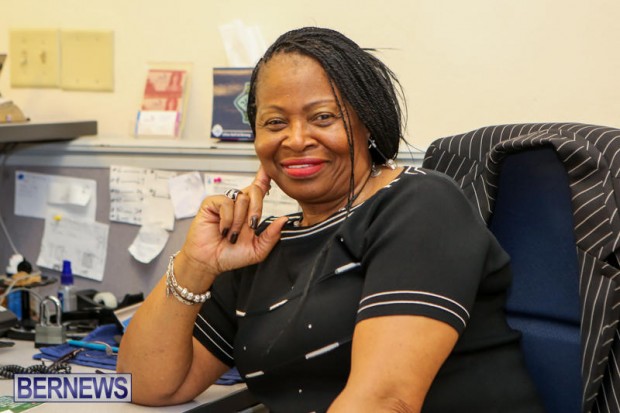 The newlywed began working locally by renting a chair at Freda Swan's Beauty Shop before she was able to officially launch her own business. She would arrive at the salon early every morning and quickly built up a reputation as the "Construction Hair Dresser", a reference to her unconventional opening hours.
In 1974 she decided to branch out on her own and rented a space in the Queen's Club Building on the corner of Victoria and Cedar Avenue. This was the beginning of the G&M Beauty Salon. In its early days the salon had no need for formal advertising. Instead Mrs. Burt relied on her product – quality, dependable service – to do the talking. As a result the salon built a strong clientele.
Years later, in 1998, Mrs. Burt partnered with her good friend and nail technician, Phyllis "Twiggy" Simmons. The two made an extraordinary team, combining their strengths and talents to better serve their clients. Together they expanded their business to offer nail services, including manicures, pedicures, and acrylic.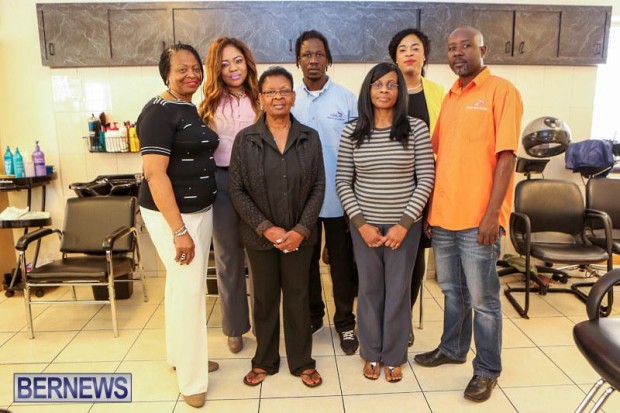 In 2000, the decision was made to move the salon to its present location on Court Street. Mrs. Burt shares candidly about her initial fear regarding the move, admitting that the stereotypical opinions of the North Hamilton area caused her to have reservations. However she took a risk and leased the entire top floor at 46 Court Street.
After extensive renovations, including upgrades to the electrical, plumbing and air conditioning systems, G&M re-opened its doors at its new, spacious location. The addition of a Barber's room made the G&M Beauty & Barber one of the first salons in Bermuda to cater to the needs of both men and women.
G&M offers services to their clientele specifically by appointment. The management is aware of the fact that time is important and seeks to ensure that their clients receive quality services in a time frame that suits their schedule. Walk-ins are only accommodated if there is an available member of staff.
.
Currently G&M have seven full time staff members – Sandra, who is the longest serving employee and specializes in hair, nails and waxing; Eva, hair stylist; Ingrid, hair and nails; Heather, nail technician and barbers Jeffrey and Freddy. All of the staff welcome you and are eager to serve you in whatever way they can.
Both Mrs. Burt and Ms. Simmons are committed Christians and have made it a priority to foster a loving and Godly ambiance at G&M. The 'G' in its name representing God and the 'M' representing Merlin, Mrs. Burt lives by the mantra that "when you keep God first everything else will fall into place."
Clients are greeted by a bible, open to an encouraging passage of scripture, and the melodies of uplifting music playing in the background. This wholesome environment lends itself well to the family establishment, which has seen four generations of clients in its forty one years of business.
When asked about her experience as a business owner in the 'Backatawn' area, Mrs. Burt gleams with pride. Despite her initial reluctance, she is happy that she made the decision to move fifteen years ago and is pleased to say that the salon has never encountered any unsocial behavior.
She continues to service clients from all different ethnicities and backgrounds and is looking forward to many more years of successful business. Mrs. Burt firmly believes that "Court Street is no different from any other area in Hamilton, but you have to come out there to find that out for yourself."

Read More About
Category: All, Business, Entertainment, News, Style & Beauty