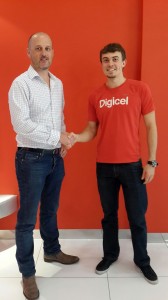 Digicel will extend its support of Bermudian, squash athlete Micah Franklin into 2015 the company announced today [Feb 3].
In December 2011, Digicel Bermuda began sponsoring Micah when he was only 19 years old and on the cusp of beginning a professional career in squash.
As a result, Micah has been able to compete in the Professional Squash Association Tour of Canada, the USA, Australia and Brazil as well as participate in training camps in the UK.
During 2014 Micah claimed victory over eight-time defending champion and mentor, Patrick Foster in the men's final of the Digicel National Squash Championships and travelled to Glasgow to represent Bermuda in the Commonwealth Games.
"Digicel has shown a vast interest in my professional squash career, of which I am extremely grateful. I've said this before, but I am truly blessed to have such a strong, continued following in my pursuit to be renowned as Bermuda's best squash player in history. Undoubtedly, I will continue to train, improve and give 100 percent of myself to be the best player I can be while representing my island home," comments Micah Franklin.
Shane McDonnell, Sales Director of Digicel Bermuda adds, "Micah Franklin has shown a huge commitment to placing Bermuda on the World Squash stage. This young athlete spends a great deal of time training in the UK and competing overseas, yet still finds time to work with young squash players when on island. We at Digicel have seen huge growth in Micah and are delighted to have him included in the diverse list of brand ambassadors we support."
Other brand ambassadors for Digicel Bermuda include two-time Olympic swimmer Roy-Allan Burch and cyclist Dominique Mayho.
Read More About