Digicel Bermuda and Beyond Rugby partnered to host coaching clinics this week at six local schools, as part of the Digicel Beyond Rugby Programme.
Included in this was a special clinic held at Berkeley Institute. Senior students had the opportunity to train with English Premiership Harlequins players Netani Talei, Nick Easter, Jack Clifford and Ollie Lindsay-Hague, along with Skills Coach Collin Osborne
Harlequins are currently on the island to participate in the Atlantic Rugby Cup 2015.
Seen here is Harlequins Skills coach Collin Osborne, Digicel Sales Director Shane McDonnell, Harlequins players Netani Talei, Nick Easter, Jack Clifford and Ollie Lindsay-Hague, and Skills Coach Collin Osborne, the Governor Hon. George Fergusson, Berkeley students, Digicel Corporate Account Manager Conor McGowan and Digicel CEO Robin Seale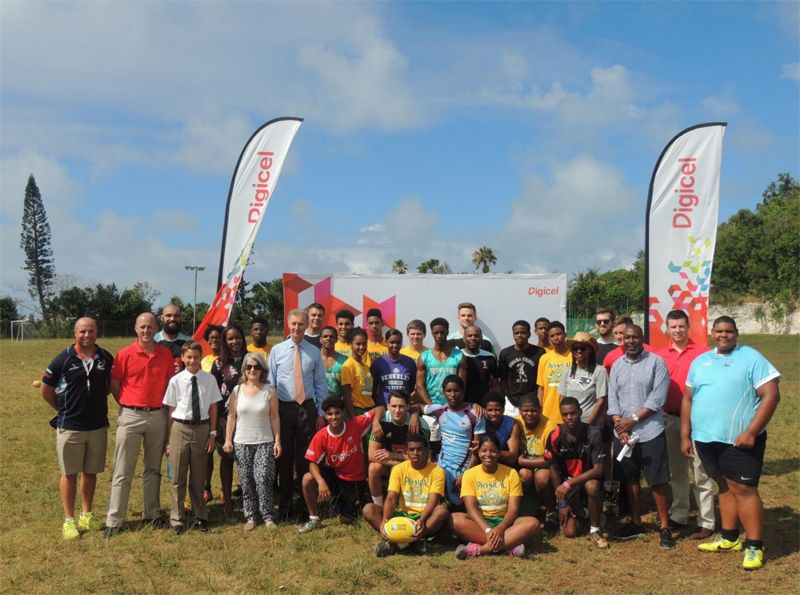 Also in attendance to support the young athletes was the Governor George Fergusson, his wife Margaret Fergusson, Junior Minister of Community, Culture and Sport Nandi Outerbridge and CEO of Digicel Bermuda Robin Seale.
Digicel Bermuda CEO, Robin Seale stated "We are proud to continue to support Bermuda's youth sport community. Beyond Rugby is a great initiative to develop the islands' young athletes and we were thrilled to be a part of the worthwhile work they do. We would like to thank Harlequins for giving the students at Berkeley the opportunity to take part in such a memorable experience"
Governor George Fergusson chatting with Berkeley students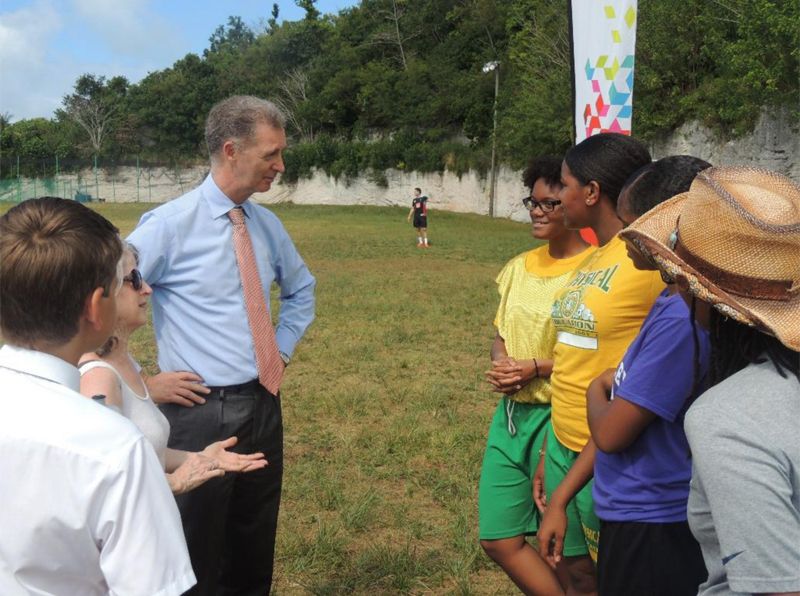 BRFU Youth Development Officer & Beyond Rugby Head Coach, Patrick Calow stated "We were thrilled to welcome Harlequins players and staff to 6 different schools [Saltus, Warwick Academy, Cedarbridge Academy, Berkeley Institute, Bermuda Institute, Harrington Sound Primary] across the island on Tuesday 2nd June.
"The young people had a great time and it was also really good to see PE teachers get involved as well. The players and staff were excellent! We're very grateful for them to take the time to get out to take rugby sessions at the various schools and also to Digicel for facilitating the school visits. We hope to see the students and teachers down at the game on Saturday to see the players in action!"
Berkeley students training with Harlequins player Nick Easter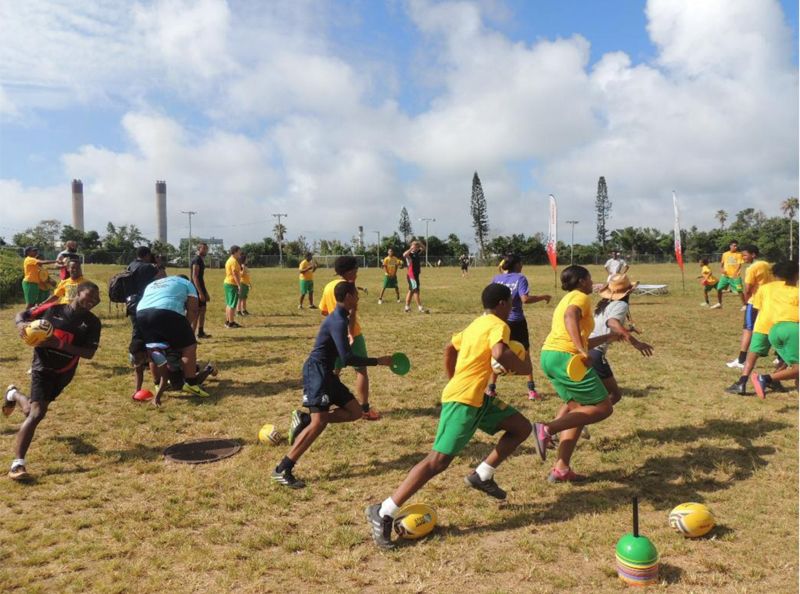 Beyond Rugby [BRB] is a Partnership between the Family Centre and Bermuda Rugby Football Union. The BRB Works with at risk students from Cedarbridge, Berkeley Institute and Dellwood Middle School, coaching them on and off the pitch at a homework academy facilitiated by the Family Centre. Their main goal is to help students graduate and give them options. The organisation also strives to help with instilling values and good qualities through rugby and placing a great importance on education.
The Atlantic Rugby Cup is built around a week of community outreach participation and social events. Thirty members of the Harlequins first squad have traveled to Bermuda to visit a number of local schools and play a match against the 'Bermuda Barbarians' on June 6th at the North field of the National Sports Centre.
Tickets for the Atlantic Rugby Cup can be purchased on www.premiertickets.bm
Read More About