Amid the continuous discussion of how best to promote Bermuda's tourism industry, one New York town has taken a very unique approach to their own tourism industry, surrendering to winter and advising people to take a trip to the Florida Keys instead.
VisitIthaca.com, the tourism website promoting the city of Ithaca, New York, recently added a pop-up window to its site, saying, "That's it. We surrender. Winter, you win. Key West anyone?
"Due to this ridiculously stupid winter, Ithaca invites you to visit The Florida Keys this week. Please come back when things thaw out. Really, it's for the birds here now."
Pop-up at VisitIthaca.com advising visitors to visit the Florida Keys instead: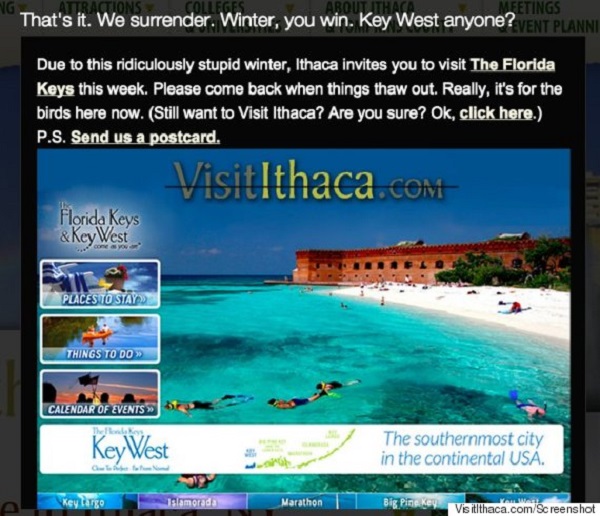 The pop-up goes on to offer visitors one last chance to proceed to the site, before requesting that those who take its advice send a postcard.
A story in the Ithaca Journal said, "Yeah: Ithaca in February is for the birds. Go to Key West instead. Come back when it's warm. That's the tongue-in-cheek approach the Ithaca-Tompkins County Convention and Visitors Bureau is taking this week with its welcome message on its website to winter-weary Northeasterners."
A tweet from the official Florida tourism account joking about losing their job: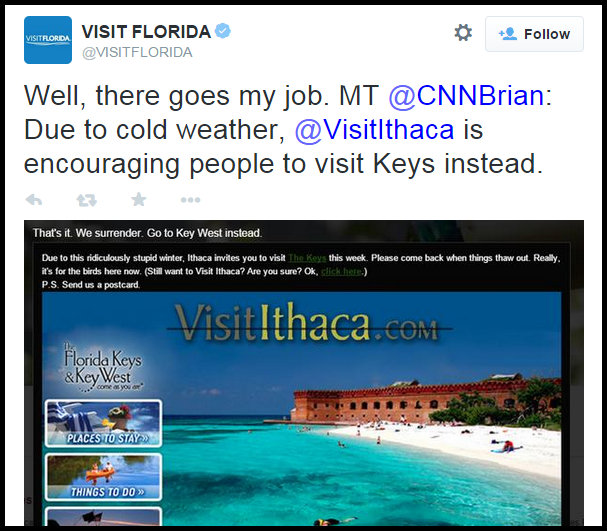 "The idea is to commiserate with potential visitors in a way that might keep Ithaca in mind now, when winter weather is likely not a big draw, and later, when the region is in its annual prime."
The gag drew attention from around the world, with the Ithaca Journal reporting that "the website averages about 1,500 hits a day in February, compared to its annual peak of 2,900 in August.
"By early afternoon Monday, it had gotten about 10,580 hits since the message was launched Sunday evening."
Read More About
Category: All