Following the recent terrorist attacks, the U.S. House of Representatives passed a Bill tightening aspects of the visa waiver program that affects citizens of 38 countries.
The visa waiver program currently makes it possible for citizens from 38 approved countries to travel to the United States for up to 90 days without first applying for a visa.
The United Kingdom is one of the 38 nations in the programme, and Bermudians are eligible, and often travel on, UK passports.
The 38 approved countries in the visa waiver program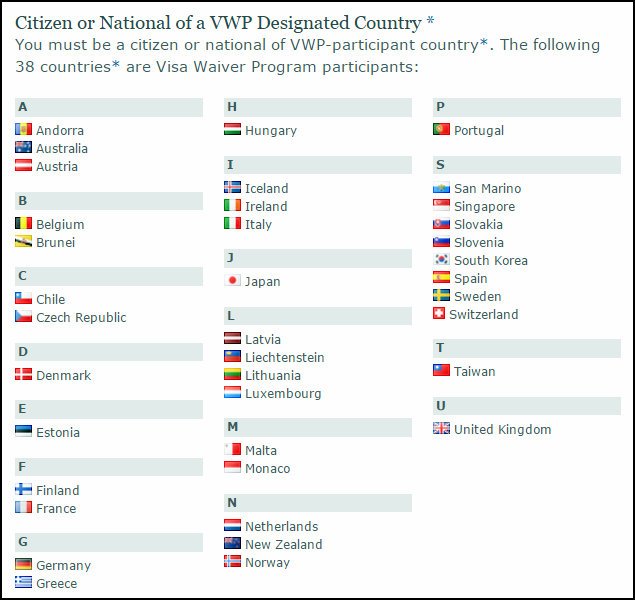 The Washington Post reports that "the bill, which was approved on a 407 to 19 vote, would increase information sharing between the United States and the 38 countries whose passport-holders are allowed to visit the country without getting a visa, while also attempting to weed out travelers who have visited certain countries where they may have been radicalized."
"The House and Senate bills would require countries participating in the waiver program to issue passports with embedded chips containing biometric data, report information about stolen passports to Interpol and share information about known or suspected terrorists with the United States.
"The House measure also seeks to prevent Syrian and Iraqi nationals, as well as any passport holder of a waiver country who has traveled to Syria, Iraq, Iran or Sudan since March 1, 2011 – the start of the Syrian civil war – from taking advantage of the program.
"These individuals would instead be required to submit to the traditional visa approval process, which requires an in-person interview at a U.S. embassy or consulate.
"The Senate bill would prevent individuals who traveled to Iraq or Syria from using the program for five years. Both bills give the Department of Homeland Security secretary the authority to take countries out of the waiver system."
Read More About
Category: All