Shadow Finance Minister David Burt delivered the Progressive Labour Party's official response to the 2015 Budget in the House of Assembly today [Feb 27], where he urged the Government to get serious about diversification, regulate 'payday lenders' who are charging interest rates of 260%, move on the decriminalisation of cannabis, reform the banking system, and well as putting forward various suggestions to help the economy.
Extracts, and the full speech, are posted below, and the charts extracted from the Reply are here.
Introduction
There are no easy decisions going forward. As the government in waiting, we know that we cannot be all things to all people and we are prepared to make the tough choices that are necessary to build a better future for Bermuda. The situation at hand requires ideas and a vision for the future. Shortterm fixes and short-term stimulus are not enough. What we require is a fundamental transformation of our economy; and on that measure, again, the One Bermuda Alliance Budget has come up short. While there is a concerted effort to reduce the deficit, the OBA seems to be content with tackling the symptoms and not fixing the problem – a broken and unbalanced economy that continues to shrink.
Effect Of Last Year's Budget
We have all felt the effects of last year's budget; we've seen joblessness rise, visitor arrivals fall, businesses close and our infrastructure continue to crumble. But, Mr. Speaker, the best indicator of the Minister of Finance's poor decision making is in the results. With his aggressive cuts, the Minister expected the deficit to be $267 million. The Minister is now forecasting a deficit of $300 million – which is greater than the deficit proposed by the PLP's alternate budget proposed last year. This should serve to remind us, Mr. Speaker, that not even this Minister of Finance can change the laws of economics: his cuts weakened the economy, his cuts helped revenues collapse, his cuts pushed visitor numbers to decline and his cuts led to a wider deficit than expected.
In 2013, the Minister boldly declared that we would borrow $800 million to "prefund" our deficits. The logic was simple according to the Minister: the Government would borrow a lot of money in 2013 to hedge against the risk of interest rates rising and having to go back to the markets in 2014 when interest rates were higher. At the time, we described the Minister's action as a risky bet that for the country's sake we hoped would pay off. Mr. Speaker, unfortunately interest rates did not rise as predicted and 10 year interest rates today are lower than they were in July of 2013. The Minister made this transaction in the hopes of saving the Government money, but as of now, and given that our notes have a fixed rate of interest, it seems that it may cost the taxpayer more money than if we would have gone back to the market on an annual basis.
Chart extracted from the PLP's Budget Reply: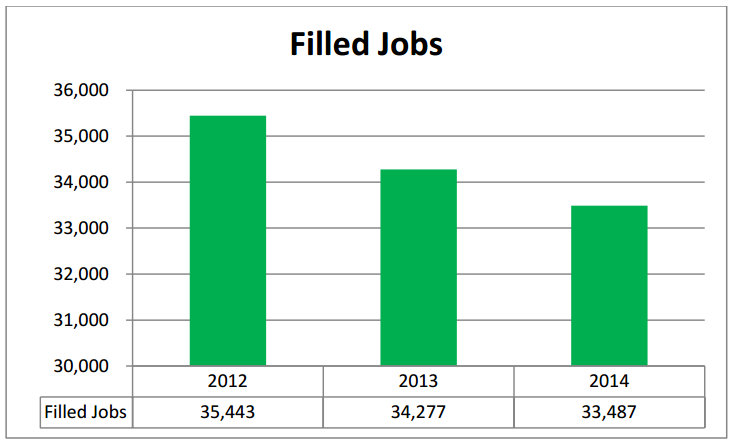 Morgan's Point
We raise a flag of caution as we understand the government has extended a $160 million guarantee to the Ritz Reserve development at Morgan's Point. Mr. Speaker, when you go to the bank to get a loan, the banker doesn't ask you for a guarantor if he feels you have the ability to repay the money. It is only when there is a question of your creditworthiness that a guarantor is requested. Therefore, it should be very concerning that the government is guaranteeing this private project.
Mr. Speaker, if the team at Morgan's Point are having a challenge in raising the funds necessary, it is likely for a good reason. The fact that the OBA is putting the taxpayers on the hook for $160 million for a private hotel development is troubling, as the government should not be in the business of building hotels.
Mr. Speaker, we wish no ill will to the developers at Morgan's Point; however, if a government guarantee is extended in this case, it opens the door for other developers to ask for the same treatment and exposes the government to a $160 million liability should the project be unsuccessful.
Diversification
2014 was a bad year for tourism as we saw air arrivals sink to the lowest level since 1966. This, however, should come as no surprise as last year saw government spending on tourism promotion dip to the lowest level in 34 years.
For the last 2 years I have stood on my feet on this occasion and implored the government to get serious about diversification. Last week, the Minister revealed his novel plan for diversification, and that was to grow the tourism industry!
That is not a plan for diversification; that is a necessity. Bermuda needs more than two industries, so the fact that the OBA's diversification plan is limited to growing the tourism sector despite our significant cost disadvantage should be a signal to all that the OBA does not understand the vital need to diversify our economy. Mr. Speaker, we will touch on diversification later, but suffice it to say that the PLP does not believe that tourism will be enough to diversify our economy.
America's Cup
The America's Cup is an excellent opportunity for Bermuda and the government should be proud 16 Bermuda Progressive Labour Party – 2015/16 Budget Reply of their accomplishment on behalf of the people of this country. This is an important event and the America's Cup Event Authority should know that we in the Progressive Labour Party will do all we can to assist the government in ensuring that this America's Cup is the best one ever. This event is also a great opportunity to showcase our island to people in the world that have the capacity to invest in Bermuda.
We do await more clarity from the Minister of Economic Development as to how the government arrived at a figure of $250 million in economic impact, however we have no doubt that the $77 million that has been pledged to the America's Cup will generate a return on investment. It is important that the economic impact from hosting this event is felt across the community, and the PLP will hold the government to account by ensuring fair tendering in contracts and value for money with taxpayer funds.
Banking Reform
It is a fact that Bermuda's banks are under-lent, and as the Minister stated last week, local bank lending is now at a seven year low! Banks play a vital part in our local economy and this lack of lending is restricting economic activity and hampering our ability to emerge from the recession. The Minister has our full support in his drive to reform the banking system, as it is vital for our economic recovery that banks fulfil the important role required in our economy. We look forward to hearing more details of his plans and stand ready to participate in any discussions on this topic.
Consumption Taxes
Our current system taxes goods in our economy but does not directly tax services. As the Minister of Finance has stated, the vast majority of our consumption is in services. In looking at tax reform, some in Bermuda have recommended that we adopt a Value Added Tax [VAT]. The PLP is of the view that the likely administrative burden resulting from the implementation of a VAT system would not be good for our economy.
Additionally, given the nature of our economy and our heavy reliance on imports, there is very little "value added" in the local domestic economy that would warrant a VAT. However, there are other models of consumption taxes that may be feasible in Bermuda and we look forward to the public consultation that the Minister is promising. One thing, however, must be said, Mr. Speaker; any consumption tax must not increase the tax burden on those who can least afford it.
Payroll Tax Concessions
We welcome the Minister's call to begin to eliminate the payroll tax concessions enjoyed by the hotel, restaurant, and retail sectors. In what is a theme of our reply, it seems the Minister took to heart what we said last year, even after he disagreed with us, and is now following the lead of the PLP. Mr. Speaker, it bears repeating that when these concessions were first introduced they only cost the government $2.2 million a year – however this figure has now swelled to $30 million a year.
Though these concessions are a quick and simple policy tool for short-term support, when they remain in place for extended periods of time, they can cause distortions in the economy and reduce an economy's efficiency and productivity. Businesses must be able survive while fulfilling their tax obligations. If we have companies that are surviving based upon these temporary tax concessions alone, this can indicate that the business owners have not made the necessary adjustments to make their business competitive. Productivity is required for economic growth, and the move to end these concessions is the right one.
Though we support this move, we are disturbed that the Minister set the rate in such a manner that employers can claw back all of the payroll tax from their employees. We do not think that is fair or just, and we urge the Minister to ensure that the end to these concessions is shared appropriately between employer and employee.
Debt Collection Reform
Many Bermudians, as a result of losing their jobs, now fear being sent to prison for debt. Our current system damages the family unit, makes criminals of the unemployed, and creates more harm than good. Stories about persons avoiding medical care for fear of being jailed for debts have no place in a society like ours.
We again call for the OBA to support the PLP bill that will cease the practice of imprisoning people for their civil debts. At the same time, the government should continue the work started by the PLP and improve the regulation of debt collection agencies. These agencies in many ways compound problems resulting from the poor economy by using the courts to heap additional debt upon distressed debtors
Regulate Payday Lenders
As a result of our economic challenges a new type of company has found a home in Bermuda – and that is the payday lender. These companies prey on the desperate and those who may not understand the full extent of what they are getting themselves into. Payday lenders in Bermuda are lending money and charging interest at the rate of 260%. Yes, Mr. Speaker, you heard me correctly - 260%.
This cannot be right, and we have a duty and obligation to put an end to this predatory practice. In some parts of the United States, payday lending is a violation of racketeering laws while in others it is a violation of criminal usury laws. Many other states limit annual interest rates to 30%. The United Kingdom has also recently enacted laws to reign in payday lenders. We urge the OBA to take action on this issue and put in place regulation to curtail those who would lend to those who may be in a tough situation at the extraordinary rate of 260%.
Decriminalisation of Cannabis
The OBA's lack of movement on the issue of decriminalisation of cannabis for yet another year remains a campaign promise unfulfilled and an example of the government showing unwillingness to deal with an issue of public concern head on. Despite there being cross party support for decriminalisation, government actions are hollow.
This too is an issue of fairness as black people in our society are far more likely than whites to be arrested, charged and convicted for cannabis possession. The criminalisation of our citizens for minor, non-violent possession is an open sore on our society, damaging already destroyed lives of hundreds of Bermudians, young and old. Many have been obstructed from years of real opportunity to improve their lives and that of their families. The PLP's bill for decriminalisation was decried by the government, but to date we have seen nothing from them as an alternative.
From a budget position, decriminalisation has a fiscal advantage of allowing resources and manpower within law enforcement which is used to investigate, pursue, apprehend and prosecute individuals for minor cannabis possession to be re-deployed to deal with other areas such as violent crime, domestic violence, commercial crime and community outreach. Decriminalisation makes good social policy and fiscal sense. This will open the door for government to explore the possibility of revenue opportunities in the long-term with cannabis being regulated and appropriately taxed. There is an opportunity to align our social policy with fiscal policy; we should not delay in taking the appropriate steps to do so.
The full PLP Reply to the Budget is below [PDF here]
Read More About