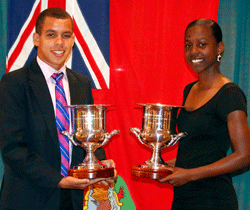 Tyler Butterfield and Flora Duffy were crowned the 2014 Bermuda Male and Female Athletes of the Year, while Tyler Smith and Kyrah Scraders were named the Male and Female Junior Athletes of the Year.
Butterfield had an outstanding 2014 with wins during the Abu Dhabi International Triathlon in the United Arab Emirates, the Bermuda National Championships, while he he also ran to victory in the Bermuda Day Half Marathon Derby and he won the Tokio Millenium Triathlon.
Butterfield finished 3rd during the Ironman France, 8th while competing in the Huatulco ITU Triathlon World Cup and he finished 19th during the Commonwealth Games Triathlon.
Duffy won the 2014 Xterra World Championship in Hawaii, Duffy also won the XTERRA Nationals in Utah, XTERRA Championship in South Africa, the XTERRA West Championship in Nevada, the XTERRA Asia-Pacific Championship in Australia and the XTERRA Southeast Championship in Alabama.
In the traditional Triathlon, Duffy finished 20th during the ITU World Triathlon in Grand Final Edmonton, she was second during the Zittau ITU Cross Triathlon World Championships, 8th in the Glasgow Commonwealth Games, 18th during the ITU World Triathlon in Chicago, she finished 4th during the Dallas PATCO Triathlon Pan American Championships and she finished 3rd while taking part in the Cape Town ATU Sprint Triathlon African Cup. Duffy completed a remarkable year of racing as she won the Queen of Bermuda Triathlon.
Smith, competing in the Junior Caribbean Cycling Championships Individual Time Trial Juvenile category finished in second place winning the Silver Medal, Smith also won a Silver Medal during the Road Race.
Smith competed in the Men's Triathlon during the 2nd Summer Youth Olympic Games in Nanjing, China, were he finished 19th, Smith also won the 2014 Bermuda National Duathlon.
Scraders won the Women's 800m B Final during the 2nd Summer Youth Olympic Games in Nanjing, China, Scraders won two Gold Medals during the 2014 CAC Junior Championships in Morelia, Mexico, she won a Gold Medal during the 14-17 Girls 400m Dash and a Gold Medal in the 800m race. During the Carifta Games, Scraders won the Gold Medal during the Under 18 Girls 800m race and she won the Silver Medal in the Under 18 Girls 1500m.
Achievement Awards
Roy-Allan Burch
Reyel Bowen
Sentwali Woolridge
Christian Burgess
Karen Smith
Tyler Butterfield
Flora Duffy
Junior Achievement Awards
Kyrah Scraders
Cecilia Wollmann
Tyler Smith
Jesse Washington
Kyle Webb
Ministers Awards Cricket
Christian Burgess
Leilanni Nesbeth
Ministers Awards Football
Appreciation Awards
XL Foundation
BELCO
Aspen Bermuda Limited
Special Achievement Awards
Calvin Blankendal
Colin Clarke
Sports Citation Awards
Pembroke Hamilton Club
2012 Carifta Games Committee
Stanford Bean
Anthony Bailey
Allen Richardson
Read More About