[Updated] The 36th Annual Sports Awards ceremony took place at the Fairmont Southampton, with several awards handed out to various different sports.
Tyler Butterfield and Flora Duffy were crowned the 2016 Male and Female Athletes of the Year, while Jah-Nhai Perinchief and Cecilia Wollmann were honoured as the Male and Female Junior Athletes of the Year.
Cecilia Wollmann and Jah-Nhai Perinchief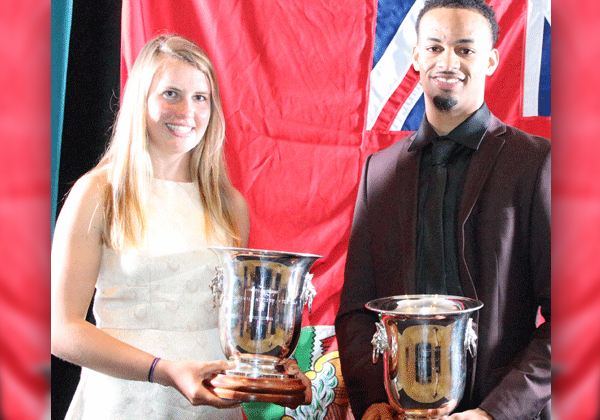 Achievement Awards
Jessica Lewis
Julian Fletcher
Tre Houston
Tyler Butterfield
Flora Duffy
Michelle Pearson
Cecilia Wollmann
Junior Achievement Awards
Jah-Nhai Perinchief
Cecilia Wollmann
Tyler Smith
Erica Hawley
Delray Rawlins
Matthew Oliviera
Aaliyah Nolan
Sakari Famous
Minister's Awards Cricket
Leilanni Nesbeth
Delray Rawlins
Minister's Awards Football
Aaliyah Nolan
Angelo Simmons
Appreciation Awards
Tokio Millennium Re
ABC Football Foundation
Bermuda Pacers Track Club
Special Achievement Awards
Garon Wilkinson – Martial Arts
Oscar Lightbourne – Martial Arts
Peter Dunne – Cycling
Sports Citation Awards
Carneal Smith – Football
Bermuda Under 20 Men's National Team
Janeiro Tucker – Cricket
Under 15 Girls National Football Team
Andrew Bascome – Football
Special Recognition
Update 11.21am: Shadow Minister of Community, Youth & Sports Development Michael Weeks said, "On behalf of the Progressive Labour Party, I extend my congratulations to all the recipients of last night's Sports Awards.
"Special congratulations are due to our Athletes of the Year, Tyler Butterfield and Flora Duffy, on their outstanding year competing in triathlons.
"Additional congratulations are paid to Junior Athletes of the Year, Jah-Nhai Perinchief and Cecilia Wollman. We are confident that there is much success in the future for these two young athletes and we cannot wait to see them deliver on their talent. With dedication and hard work, we anticipate much success.
"We also recognize all other winners and nominees in other categories.
"The Progressive Labour Party recognizes the role that sport plays in the development of young people and in providing opportunities to succeed. We are pleased to see these success stories, and look forward to providing outlets and avenues to success for our talented athletes in the future."

Read More About