Chazz Manning, a primary one student at Port Royal Primary is the 2015 grand prize winner of the BELCO Bird Kite Safety Poster Competition.
Chazz and his class were invited to BELCO Headquarters where BELCO Bird presented him with a $500 donation to benefit his class, a certificate, and ribbon. He also received a hand-crafted Bermuda kite made by BELCO Fitter Apprentice, Corrie Dillas.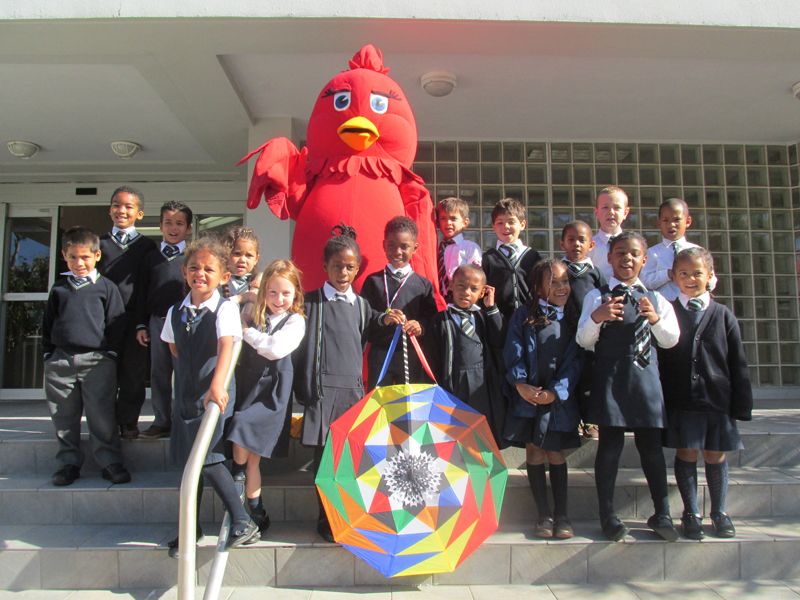 Chazz's artwork was chosen as the Best Kite Safety Message Overall of 150 entries sent in by other local primary one and primary two students. Entries were judged according to their year level on the following categories: "Best Safety Message" and "Most Beautiful".
The art competition is just one part of BELCO's 27-year-old annual Kite Safety Campaign to promote safe kite making and flying. In February and March, BELCO Kiteman Cornell Dunkley and Deana Bailey of External Relations and Corporate Communications visited more than 1,400 primary one and primary two students to give the BELCO Bird Kite Safety Presentation and Electrical Safety Demonstration.
BELCO's Kite Safety Campaign ends on Good Friday, when BELCO Bird will visit safe kite flying locations around the island. Visit Belco.bm to find out where BELCO Bird will be on Good Friday.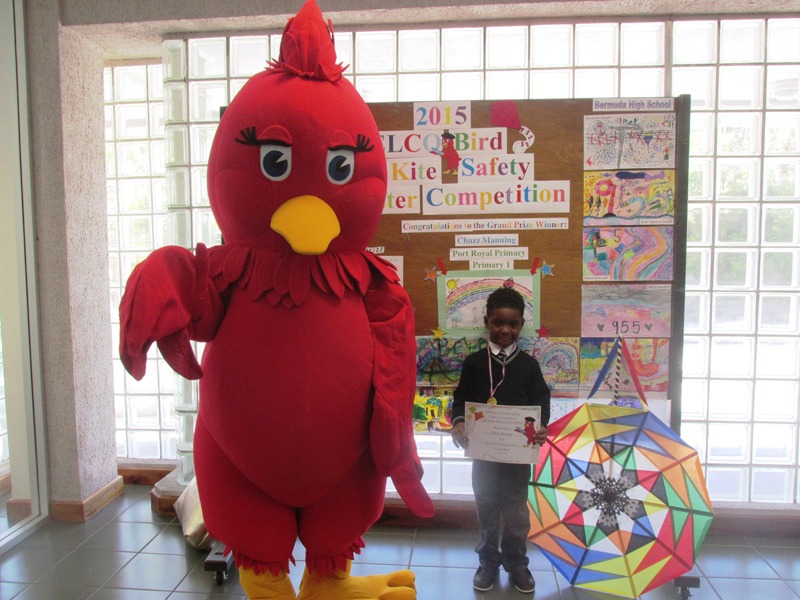 The following students were also winners in the Competition. All winners receive a certificate and a ribbon for their efforts. Certificates and ribbons can be collected at BELCO's Head Office on Serpentine Road.
All posters will be displayed in BELCO's lobby through April 10. Winners are encouraged to stop by and view them anytime from 9a.m. – 5p.m.
Bermuda High School:
Year 1 – Ann Bumbsted [Best Safety Message] & Harli Basden [Most Beautiful]
Year 2 – Eloise Federer [Best Safety Message]
Bermuda Institute
Grade 1 – Pedro Durrant [Best Safety Message and Most Beautiful]
Harrington Sound:
Year 2 – Gianna Pedro [Best Safety Message & Most Beautiful] & Joshua Gatare [Good Effort]
Heron Bay:
Year 1 – Sahlé Furqan [Best Safety Message & Most Beautiful]
Mount Saint Agnes Academy:
Kindergarten – Taryn Cundliffe [Best Safety Message]
Grade 1 – Ben Wells [Best Safety Message] & Taya Rodrigues [Most Beautiful]
Northlands:
Year 1 – Nai'lah Barclay [Best Safety Message] & Taurie Spencer [Most Beautiful]
Year 2 – Duboney Hannam [Best Safety Message] & Nevaeh Barclay [Most Beautiful]
Purvis:
Year 1 – Amaris Munya [Best Safety Message & Most Beautiful]
Year 2 – Jaya Postlewaite [Best Safety Message] & Azaria Atwell [Most Beautiful]
Saltus Cavendish:
Year 1 – Khushla Dooboree [Best Safety Message & Most Beautiful] & Arianne Charlemagne [Good Effort]
Year 2 – Zachary Felix [Best Safety Message] & Kyan Hands [Most Beautiful]
Somersfield Academy:
Year 1 – Miles Outerbridge [Best Safety Message]
St. George's Prep:
Year 1 – Maya Fitzmaurice-Trott [Best Safety Message and Most Beautiful]
Year 2 – Sailahn Martin [Best Safety Message & Most Beautiful]
Warwick Academy:
Year 1 – Brianna Sousa [Best Safety Message & Most Beautiful]
Year 2 – Billie Rose Kempe [Best Safety Message] & Chloe Samuels [Most Beautiful]
West End
Year 2 – Marlena Goodwin [Best Safety Message]
West Pembroke:
Year 1 – Amaya Adderley [Best Safety Message] & Haley Shadick [Most Beautiful]
Read More About