The Bermuda Bodybuilding & Fitness Federation [BBBFF] will host the 3rd Annual Extravaganza on Saturday April 11th in the Earl Cameron Theatre at City Hall.
Candy Lee Foggo, BBBFF President, said, "We are very exciting this year to be hosting a separate kids' fitness competition, from 3pm to 5pm, and the adult bodybuilding & fitness competition will take place from 7pm."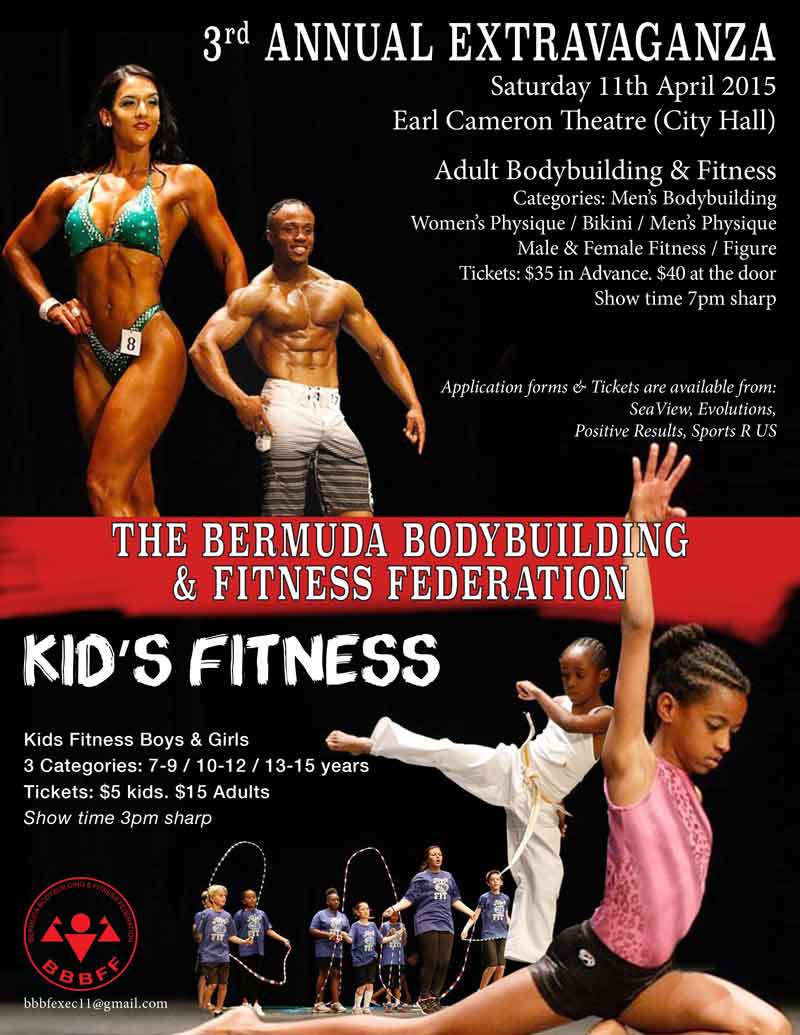 While continuing to promote health and fitness to the adult community, the BBBFF is putting a special emphasis on the kids and adolescents with Ms Foggo stating, "It is never too early to encourage kids and adolescents to adapt and health and active lifestyle.
"We encourage all youth between the ages of 7 to 15 years old to enter our competition and showcase their talent, the main requirement is displaying short routine that highlights strength, agility and coordination. Fantastic prizes will be awarded."
The adult competition will feature various competitive categories including women's bikini, men's physique, male & female bodybuilding and fitness. Tickets are $35 in advance and $40 at the door for the evening adult segment.
For the afternoon kids' competition, tickets $15 for adults and $5 for children. Advance tickets and application forms are available from Seaview Ultimate Fitness Centre, Evolutions, Positive Results, Sports R Us.
For further information, please email BBBFEXEC11@Gmail.com and like the BBBFF Facebook page under Bermuda Bodybuilding Federation.
Ms Foggo adds, "We are very excited about this event, especially the kids competition in the afternoon and the hotly contested adult competition will have a mix of new and familiar faces. We encourage everyone to secure their tickets early, rest those vocal cords so you are ready to cheer for all the athletes."

Read More About