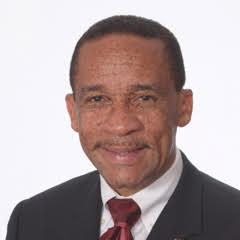 With an all star cast of over 30 members, a live band, a dramatic opening and more, Dale Butler [pictured left] is set to release his third play, directed by Rotimi Martins, entitled 'The Second Last Supper.'
The play will be staged on March 26, 27, and 28 at St. Paul A.M.E. Centennial Hall.
In writing the play about The Last Supper, which is held to be the holy Communion, Mr. Butler turned his attention to what may have been going on in the minds of Jesus' disciples the night before.
Based on Mr. Butler's reading of the Bible and 10 additional books, the play aims to give insight into the deep seated feeling the disciples had prior to Jesus leaving them.
The play, which follows Mr. Butler's "We are Climbin' Jacob's Ladder" and "Hubert Smith: The Play," is being presented by St. Paul A.M.E. with the organising committee chaired by Mrs. Edwena Smith.
Tickets are on sale for $25 each at St. Paul A.M.E., Juice and Beans on Front Street, Caesar's Pharmacy in Somerset, and Music Box.
Official overview of The Second Last Supper:
The play's synopsis says, "After three years of instruction from Jesus, witnessing His miracles and spreading His word, one of the 12 disciples calls a meeting to express his fears. Jesus himself is sought by the Pharisees, Sadducees and Scribes who wish to put him on trial because He has challenged many of their practices and teachings.
"He has already told His disciples that His time is near and they fear His arrest and departure. In an effort to solidify their membership, a disciple calls a special meeting prior to the Last Supper.
"Jesus does not wish to attend and decides to pray while they meet. It is possible they may decide to disband and return to being fishermen because their faith is so weak."

Read More About
Category: All, Entertainment