For cancer awareness week at Saltus, the Saltus Lower Primary Year Coordinators – Jan Shaw [S2], Heather Trimingham [S1] and Samantha Willis [Foundation Year] – together with Director of Lower Primary Shelly Sayers came up with the idea for a sponsored walk around their field – or "Walk With Your PALS" – as a way of raising funds for P.A.L.S.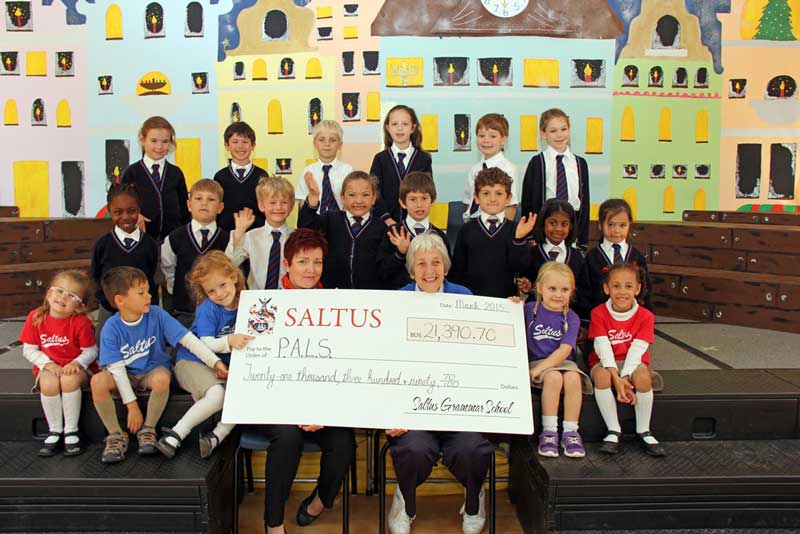 The sponsored walk took place on 11th March and lasted an hour. Students in Foundation Year could walk up to three laps, S1s up to six laps, and S2s up to ten laps [parents and their children determined how many laps their children would walk and the number of laps was written on a tag attached to the student's shirt].
Saltus Lower Primary's "Walk With Your PALS" raised an amazing $18,338.71 for P.A.L.S. In addition, each of the three Foundation Year classes created a painting and these were raffled off raising an additional $1,125.
Secondary students had a twin-themed grub day that week and UP students bought milk and popcorn raising additional funds. In total, Saltus students and their supporters raised $21,390.70 for P.A.L.S..
Ann Smith-Gordon, CEO of P.A.L.S., was thrilled: "I am absolutely overwhelmed by this amazing donation and cannot possibly express my deep appreciation to all the Saltus students, staff and supporters who made it possible. The funds will be used to help in the care of our many patients who have cancer."
Read More About